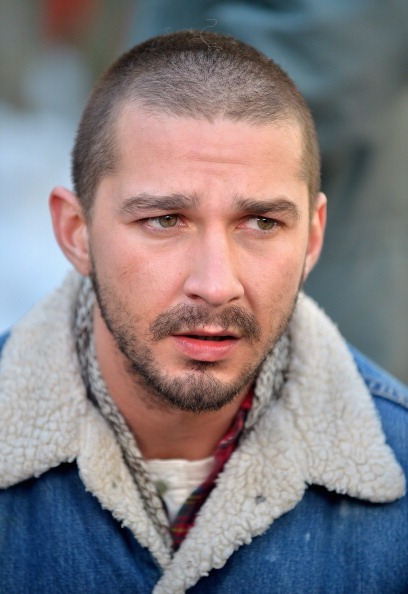 Things aren't looking so Even Stevens right now between Shia LaBeouf and Alec Baldwin.
Mr. LaBeouf who was set to make his Broadway debut in Orphans alongside Alec Baldwin, but yesterday announced he was leaving the cast due to "creative differences" with his co-star.
In a move that surprised no one, the Transformers star took to Twitter to tell the story. In one tweet, he posted a screenshot of an email he received on February 19 from Orphans director Daniel Sullivan.
According to the email, Mr. LaBeouf and Mr. Baldwin were star-crossed from the start.
"I'm too old for disagreeable situations," Mr. Sullivan wrote to Mr. LaBeouf. "You're one hell of a great actor. Alec is who he is. You are who you are. You two are incompatible. I should have known it. This one will haunt me. You tried to warn me. You said you were a different breed. I didn't get it."
If somebody could please go check on Mr. Sullivan, that would be great.
Judging by the screenshot, Mr. LaBeouf also issued a sorry-I'm-not-sorry to Mr. Baldwin.
"A man can tell you he's wrong," Mr. LaBeouf wrote in an email to Mr. Baldwin, among other recipients. "He can apologize, even if sometimes it's just to put an end to the bickering. Alec, Im [sic] sorry for my part of a dis-agreeable situation."
But worry not, all you disheartened Shia/Alec shippers. The two actors, despite the split, seem to be on decent-ish terms at this point. Later tweets from Mr. LaBeouf showed an email correspondence between him and Mr. Baldwin, in which Mr. Baldwin said, "I don't have an unkind word to say about you. You have my word." Mr. LaBeouf responded, "Same. Be well. Good luck on the play. You'll be great."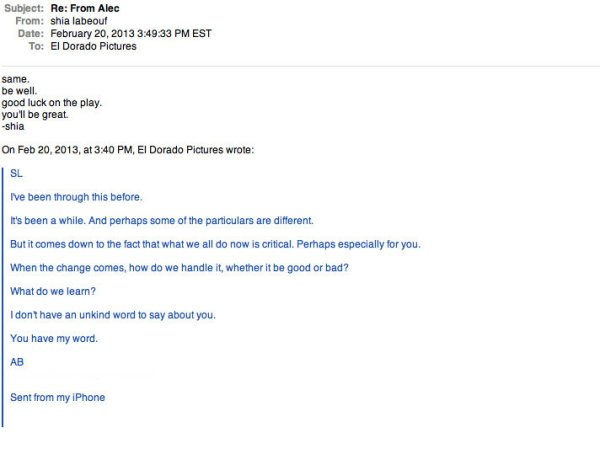 According to the New York Daily News, Broadway insiders predict that ticket sales for Orphans,which is set to open in under a month, will suffer now that Mr. LaBeouf has made his exit (what has our world come to, when people make their ticket-buying decisions based on whether or not Shia LaBeouf will be on stage? Also, does no one care about Alec Baldwin?)
Today, his replacement was announced: Ben Foster. This is Broadway, after all—regardless of petty celebrity feuding, the show must go on.