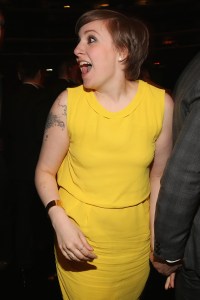 Last spring, actor Billy Morrissette was guest starring on Girls and invited me to Steiner Studios in the Brooklyn Navy Yard to watch an episode of the show being filmed. The bad news didn't come until the day of: due to "tension on set," Mr. Morrissette had decided it was a bad idea to bring a guest.
And so, rather than meeting Lena Dunham myself, I had to make do with a second-degree connection, along with seemingly everyone else in New York. You see, touting one's almost-connection to Girls, no matter how tenuous (or even imagined) is de rigueur these days for anyone under 30. Two months ago at a birthday party in Bushwick, for instance, one might have met over the course of the evening—as I did—a blogger whose cousin had been roommates with Ms. Dunham's sister, a financial analyst from around the corner who remembered seeing Christopher Abbott, the actor who plays Charlie, working at Rockaway Taco and a jewelry designer whose best friend's boyfriend (aka Mr. Morrissette) is played the boyfriend of Hannah's ex-boyfriend-cum-gay roommate.
Not only are these almost-connections rampant, but New Yorkers also have a seemingly endless desire to talk about them. The only prompting a stranger usually needs to launch into a detailed description of his or her association with the cast, crew or catering of HBO's hit show is: "Hi."
Fame by association is so Hollywood, so what is it about Girls that causes normally celebrity-indifferent New Yorkers to desperately name-drop?
You might say it's because the show is shot in New York, but so are a lot of shows nobody talks about. When was the last time someone asked you if you saw the latest Damages? Or mused over the dead bodies on Law & Order? Does anyone have a roommate whose sister guest starred on Gossip Girl? Probably. But I've never heard anyone talk about it. Louie shoots in New York and is often compared to Girls, since they are both shows whose star is also the producer, writer and director. And yet one rarely hears more about Louie than the requisite "I love it!"
One reason people may feel so comfortable talking about Girls is that many of us think it's only by a cruel twist of fate—and a whole lot of nepotism—that Lena Dunham created the show and we did not. Knowing someone close to the show is further proof of how close we were/are/could be to having our names in the credits. "What I don't get is why people act like being bitter toward her isn't understandable. Why wouldn't you be bitter toward someone who has everything you want when your life sucks?" said one man who wanted only to be identified as a New York comedian.
This confidence that we could have, should have and eventually would have done what Ms. Dunham did is a delusion, certainly, but it is also a result of the show's incredibly personal nature. While Girls may be based on Ms. Dunham's life, the stories are often so familiar that watching them feels like someone else is getting rich off our diary.
Upon seeing the episode where two characters make an ill-fated journey to Staten Island, for instance, Max Barbakow, a 23-year-old filmmaker, exclaimed, "Yeah, I already did that last week," as though the show owed him money for the story line. Law & Order may be ripped from the headlines, but Girls is ripped from our heads.