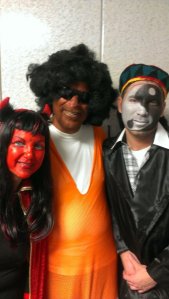 Brooklyn Assemblyman Dov Hikind is standing by his decision to don a Purim costume that some people have described as offensive "blackface." The outfit, which consisted of brown face paint, an afro wig and sunglasses in what Mr. Hikind described as a representation of a "black basketball player"provoked widespread outrage after Politicker first wrote about it this morning. However, in a post on his personal website bluntly titled "It's Purim. People Dress Up," Mr. Hikind argued his critics don't understand the nature of the Purim holiday, a costume and wine-fueled reverie commemorating a time when Jewish people living in Persia were saved from extermination.
"Yes, I wore a costume on Purim and hosted a party," Mr. Hikind wrote. "Most of the people who attended also wore costumes. Everywhere that Purim was being celebrated, people wore costumes. It was Purim. People dress up."
Mr. Hikind went on to say he is not prejudiced against any ethnic group.
"I am intrigued that anyone who understands Purim—or for that matter understands me—would have a problem with this," wrote Mr. Hikind. "This is political correctness to the absurd. There is not a prejudiced bone in my body."