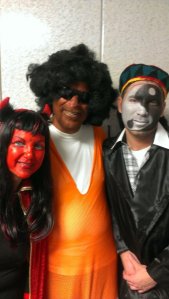 Brooklyn Assemblyman Dov Hikind hosted a massive Purim party at his home yesterday that featured over fourteen hours of food and drink and, as is customary on the Jewish holiday, elaborate costumes. Mr. Hikind said a professional makeup artist came to his home to transform him into a "basketball player" with a costume that consisted of an afro wig, sunglasses, an orange jersey and brown face paint.
"I was just, I think, I was trying to emulate, you know, maybe some of these basketball players. Someone gave me a uniform, someone gave me the hair of the actual, you know, sort of a black basketball player," Mr. Hikind explained. "It was just a lot of fun. Everybody just had a very, very good time and every year I do something else. … The fun for me is when people come in and don't recognize me." 
The Assemblyman's wife was dressed as a devil and his son was a trippy, yin-yang-faced "angel." Mr. Hikind, a Democrat and power broker in the city's Orthodox Jewish political scene, said he put a sign outside his house in the afternoon letting his neighbors know the door was open and a steady stream of revelers came in to enjoy the festivities throughout the day.
"People just know that we have–we in general have a very open house in terms of the weekend, the Sabbath," said Mr. Hikind. "Friday night, Saturday, we invite a lot of company, we have a lot of guests."
Politicker asked Mr. Hikind whether he was worried his "black basketball player" costume could be seen as offensive blackface. He described the outfit as respectful fun in keeping with Purim traditions.
"I can't imagine anyone getting offended. You know, anyone who knows anything about Purim knows that if you walk throughout the community, whether it's Williamsburg, Boro Park, Flatbush, Forest Hills, Kew Gardens Hills, people get dressed up in, you name it, you know, in every kind of dress-up imaginable," Mr. Hikind said. "Purim, you know, everything goes and it's all done with respect. No one is laughing, no one is mocking. No one walked in today and said, 'Oh my God.' … It's all just in good fun with respect always, whatever anyone does it's done with tremendous amounts of respect and with dignity, of course."
Mr. Hikind's costume was quite labor intensive. When we spoke to him shortly after midnight, Mr. Hikind said he spent over thirty minutes in the shower trying to remove the makeup and still had more work to do.
"I came out and I wiped my face and I still had stuff on my face. It's going to take me a while," the assemblyman explained. "But it's all worth it, I would do it again in a minute."
Additional reporting by Colin Campbell.