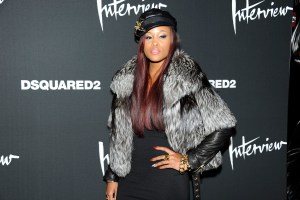 Although Nemo assailed our city with buckets of snow, threatening to grind Fashion Week to an unfashionable halt, The Observer would not be stopped. Shindigger was front and center at all the best New York Fashion Week had to offer. Who could forget Jason Wu's billowy evening wear? Or Prabal Gurung's must-buy Cesare Casadei military knee-high boots with python? What about Moncler's stunning Star Wars-inspired fashion presentation?
Between the fabulously overpriced couture and the Oscar-worthy production values, the circus that is Fashion Week doesn't just entertain us, it makes us whole again. With the desperate posing and the mere pleasure of sitting next to some of the most heinously obnoxious fashions mavens ever to breathe, it's just consummate bliss! 
Still, Shindigger needed a break from the hustle and bustle every now and again. On Sunday, we took in the runway shows of Diane Von Furstenberg and Ralph Rucci in the American Express Skybox, far above the frenzy of Lincoln Center, with stylist Cameron Silver and FIT's Valerie Steele. Perched high above the catwalk, Shindigger enjoyed healthy pours of red wine and bubbly, served alongside gourmet grub.
"What's on the party schedule tonight?" a well-dressed yet curiously uninformed brunette asked us after Ralph Rucci.
"Dsquared2!" Shindigger screeched. We explained that the brand's designers, Dean and Dan Caten, were hosting a private screening of their spring 2013 ad campaign video, "Behind the Mirror," shot by Mert Alas and Marcus Piggott and starring two surprise female models, who turned out to be the identical twin designers in magically convincing drag.
Regrettably, we had no additional room for hangers-on, so we gulped our merlot and danced down the Lincoln Center steps so our waiting car could whisk us off to the Copacabana on West 47th Street. (Fighting every impulse in our booze-addled brains, we did not start singing that old 1970s favorite, though we wanted to, especially when we learned that Barry Manilow was putting on a solo show just a few blocks away.)
Luckily, we made it to the club in relative quiet. And the Copa, quite frankly, may never have seen a better list of revelers. There were the super attractive and fashionable: models Carolyn Murphy and Chad White, Anh Duong, Riccardo Tisci and rapper Eve. The fun and freaky: Susanne Bartsch and Amanda Lepore. And of course, the powerful scenesters: Russell Simmons, Mia Moretti and Vikram Chatwal.
"I'm inspired by all the designers for some reason or another," Mr. Simmons told us. We had eyed him from across the runway at Hervé Léger and a few other shows. "I love all the bandage stuff that they do. It's inspired a lot of what I've designed."
And the business magnate's biggest inspiration? "Tommy Hilfiger, period. He helped me get started 20 years ago, helped me build what would ultimately become a billion-dollar brand."
We've heard a few debates about Phat Farm's actual value, but Shindigger let it go, as we were suddenly forced to hit the deck—some drunk dancing passerby nearly spilled Veuve Clicquot on our Hermès! We returned to our feet only to find ourselves staring right into the face of TV personality Carson Kressley.
"What are you enjoying most about this party?" Shindigger asked the ex-Queer Eye guy, who's about to appear in Broadway's NEWsical The Musical as a four-week guest star.
"Who is this for?" he demanded.
"The Observer," we replied.
"Is that the pink one?"
"Salmon," we corrected. He laughed, continuing to sway his hips to the beat.
"I love The Observer!" he said, and then gave us his assessment of the party: "There's free liquor, hot guys and did I mention free liquor?"
"Are you single and ready to mingle?" Shindigger said.
"I'm totally single! Are you asking me out?"
Shindigger sadly had to turn him down and get back to business. We ordered three more glasses of champagne for our posse and then found some space on a banquette next to billionaire Renzo Rosso, founder of Diesel and owner of holding company Only the Brave, which controls Staff International, the firm that manufactures and distributes Dsquared2, Maison Martin Margiela and Viktor & Rolf. Recently he also bought a majority stake in the quirky luxury brand Marni.
"A new baby on board!" he sang in his Paduan accent, over a thunderous bass line, about his major investment in the label. "I'll try to do the best to give it good visibility, because [it is] so beautiful!"
Of the Caten twins, Signore Rosso said, "They are unbelievable. They are like me! Crazy, rebellious, funny, enjoyable. It's so nice to work with them."
And speak of the devil …
"We arrived last night at 3 in the morning," Dean Caten chimed in, just a few feet from Signore Rosso. "We started in London with a pit stop in Miami."
"A party or a tanning pit stop?" Shindigger asked, noticing the designer's tenné flesh.
"A day of tanning," he giggled.
"Why did you choose the Copacabana?"
"I dunno. Maybe the drag ad campaign?" Mr. Caten responded.
"You looked great in drag!" we said.
Speaking of looking great, the Dsquared2-clad siren Eve suddenly appeared, her décolletage ornamented with her signature paw-print tatouage. We moved to talk to the actress/singer and quickly learned that she loves a fashion parade.
"Yesterday I went to the Prabal show and after-party at Bow! It was so fun," she said. "The day before, I was at Nicole Miller, Monika Chiang. Tomorrow I'm going to The Bonds."
We couldn't help but notice her impressive level of fitness, and Eve confessed to an elaborate regimen. "I do everything," she said. "I have a trainer that comes, but I do elliptical. I do a lot of body weights."
Shindigger decided that we would meet her at the gym some time. If we could get up in the morning, that is.
blehay@observer.com