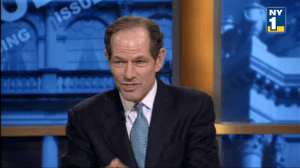 A couple days ago, the New York Daily News reported former Governor Eliot Spitzer "is being talked about" as a potential primary candidate against incumbent Comptroller Tom DiNapoli, a move he had reportedly seriously considered in 2010. On NY1's Inside City Hall last night, however, Mr. Spitzer dismissed the speculation and labeled Mr. DiNapoli "a buddy."
"It was a tabloid and you know I've always said … to you, 'I never trust what's in the tabloids!'" Mr. Spitzer declared over the protestations of host the show's host, Errol Louis, a former Daily News columnist.
Mr. Spitzer pointed to the fact that he didn't comment for the article, which only cited Democrats privately bandying his name about and not anything from the former governor himself.
"Look, I haven't even seen the article," Mr. Spitzer said. "I got a call or two about it. I think–I hope–the article said I did not speak to the reporter, have never spoken to him about it. It's just made up out of nowhere. I have no idea where it comes from."
Pressed further about his opposition to Mr. DiNapoli's initial appointment following Alan Hevesi's forced resignation after he was found misusing state resources, Mr. Spitzer claimed Mr. DiNapoli was a "great friend" and said there had never been any personal animosity between the two.
"This is for people who have a long, long history," Mr. Spitzer explained. "Back to 2007, when Alan Hevesi had resigned, the Assembly and the State Senate chose Tom DiNapoli. Tom is a good friend. I've always liked him. Been a buddy of mine. Wonderfully nice. Decent, good person. My issue was I thought they should have chosen someone with deeper roots in the financial sector, who understood what is primarily a financial job, managing pension funds, auditing, etc."