Sam Shepard and Jessica Lange have taken their time breaking up—quietly separating in 2010, publicly splitting at the end of 2011 and finally, now, in the first days of 2013, transferring their once-shared Greenwich Village co-op into Ms. Lange's name.
Nothing says the end of a relationship like the dissolution of property. Rumors that the couple had reunited and were kissing on the streets of Paris last spring (which were so unbelievably cliché they were almost credible) could not have been true.
The property transfer hit city records today, like a punch to the gut, a mere week before Valentine's Day. Indeed, while publishing the banns of marriage has gone the way of the horse and buggy, one can read the tales of romantic love and strife in the city's property records.
The playwright (if one can be so reductive in describing Mr. Shepard) and the celebrated actress purchased the co-op at 1 Fifth Avenue back in 2005, paying $3.4 million. At the time, Mr. Shepard and Ms. Lange had been together for more than 20 years, unlike so many other heedless celebrities who make the mistake of not only merging their names in the tabloids, but also on a deed.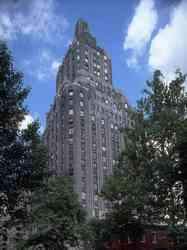 Breaking up, as Neil Sedaka once sang, is hard to do. And breaking up with a beautiful, still-desirable co-op in a landmarked Art Deco building is conceivably even harder. Especially considering that the buy was something of a homecoming for the couple, who both forged their early careers in New York, living in considerably less glamorous circumstances. (Though Ms. Lange, in her waitress/model phase, did live with the not-yet-famous Grace Jones.)
In the end, Ms. Lange refused to part with the apartment, paying Mr. Shepard $1.63 million for his shares.
The couple continue to share two children and the Academy Award-nominated 1982 film Frances.
kvelsey@observer.com
Correction: An earlier version of this story said that Ms. Lange and Mr. Shepard were married. The couple was never officially married. The Observer regrets the error.