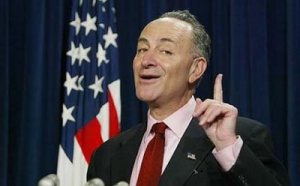 Senator Chuck Schumer dropped an interesting factoid this morning at a breakfast co-hosted by The Association for a Better New York and the Downtown-Lower Manhattan Association. Mr. Schumer was there to discuss recently authorized recovery funding for Hurricane Sandy, but offered some remarks on the state of New York's tech industry.
During the Q&A period, Dawn Barber, cofounder of the New York Tech Meetup, asked Mr. Schumer what he thought of the role of the technology community would play in the city's future.
The topic has been received with considerable skepticism recently, particularly after Mayor Bloomberg waved his pom-poms at a press conference yesterday trying to lure more startups to New York.
The event–hosted at Buzzfeed's perky Flatiron headquarters–was light on actual news. Mr. Bloomberg officially announced the "Made in NY" label invented for the entertainment industry could now be applied to tech companies. While he was it, he also launched an online hub, We Are Made In NY. The site builds on the pre-existing Made in NY map, which let's tech-happy workers search for which startups are hiring or where to find investors. It also provides links to apply for resources subsidized office space or broadband connectivity.
However, as Kevin Roose noted over at Daily Intel, in order to qualify for that "Made in NY" sticker, companies have to have 75 percent of their technology development based in New York City. That eliminates major employers like Facebook and Google, who can make a bigger impact on the jobs market. Those types of companies are motivated more by "talent arbitrage"–luring engineers from other strong sectors (hi, Wall Street!) who might be open to taking tech jobs if they don't have to leave New York.
Thus Bloomie's brand of PR push doesn't work on them, Mr. Roose argued:
" . . . they're incentivized when they want to reduce their tax burdens, when they want to open a new market, or when they can get something in a satellite location that they can't get at home. Mayor Bloomberg isn't proposing any new tax breaks for start-ups, but he could convince West Coast–based computing giants like Apple, Microsoft, or Genentech to expand their New York presence by pointing out the vast engineering talent that exists here and can't be moved. That alone would create more New York jobs than convincing a hundred small start-ups to set up shop."
What's more, as The Awl's Choire Sicha pointed out today, the nebulous resources highlighted on the We Are Made In NY page won't necessarily move the needle for smaller startups either.
This morning's breakfast offered Mr. Schumer an opportunity to respond to some of those concerns, albeit indirectly. He mentioned his proposed immigration bill, which allows STEM (science technology engineering and math) graduates to "get a green card attached to your diploma," as a way to attract technical talent to New York, "because we're the most hospitable place for immigrants anywhere in the nation."
"I'm a competitive New Yorker, so I like to see us do better than everybody else," he said. Mr. Schumer predicted the tech sector would be "one of our great futures," noting venture capital reports that show New York as second only to Silicon Valley in venture funding and a bigger percentage of growth in funding here.
This time around, he added, the promise is "not illusory the way it was in 2000." By way of proof, he offered the following anecdote:
"It's much stronger and deeper. I talk to experts in California. Eric Schmidt, the head of Google, told me that he gets more productivity per worker out of the 3,000 Google workers here–per person, per dollar–than out of the 13,000 people in Mountain View in their headquarters."
Huh, wonder what they're putting in the food trucks at Googleplex East?
Mr. Schumer didn't offer any further explanation, so it's impossible to say whether that enhanced productivity-per-dollar is because GOOG found a way to marshall New York neuroses or just because engineers in the Valley are paid a prettier penny. But that certainly sounds like the kind of stat that might interest Facebook and Twitter.
If City Hall does decide to start publicly courting the big boys, it might want to tread lightly. There's such a thing as being too welcoming.