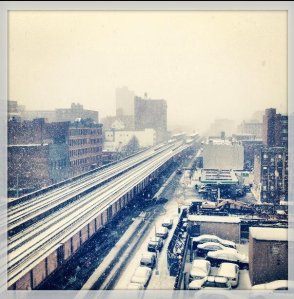 New York isn't freaking out like Massachusetts, where Governor Deval Patrick signed an executive order banning cars from the roads after 4 p.m. ahead of a wicked winter storm bearing down on the Northeast, but there are a few service alterations for commuters around the region.
The Long Island Rail Road will be running additional service out of Penn Station to help commuters get home – three extra Babylon Branch trains (the last leaving at 3:31), four extra trains on the Port Jefferson Branch (the last leaving Penn at 3:24), one extra Port Washington Branch train leaving the city at 3:40, and a Far Rockaway Branch train leaving at 3:48.
"This is a serious storm," LIRR President Helena Williams said in a press release, "so it's best to get home early and avoid traveling as conditions worsen."
Subway riders will also see a silver lining in the storm: all weekend work has been canceled. "The MTA believes the underground subway service will be operating close to normal through the rush hour today," Mayor Michael Bloomberg said today, though some routes will run local, and bus service "may be curtailed."
Amtrak service from New York's Penn Station heading north has already been canceled, and the last southbound Northeast Regional will leave Boston's South Station at 1:40 p.m. (get off the internet and run!).
Mayor Bloomberg warned people to stay off city streets, with the heaviest snowing starting between 3 and 7 p.m., accumulating between 10 and 14 inches by early Saturday afternoon. Parking meters will be suspended Saturday, but not today, and alternate side parking is suspended until Sunday.
And for all those do-it-yourself electricians, the mayor has a message: leave downed power lines and trees alone.