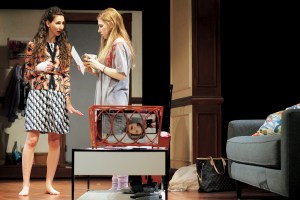 Of course Zosia Mamet stars in Really Really.
I say this partially because Ms. Mamet, Shoshanna on HBO's Girls, with her hard-set jaw and strategically vacant stare, is extraordinary in her role, as a poor girl who has made it to a tony college and is determined to consolidate her socioeconomic gains.
But I also say it because this engrossing, unsettling and mildly repulsive new drama, the New York debut of playwright Paul Downs Colaizzo, is unavoidably a 2010s version of 1990s David Mamet. It's Oleanna with iPhones, Speed-the-Plow in a dormitory, and Ms. Mamet, daughter of the Pulitzer-winning provocateur, conveniently provides an actual genetic link in a play already borrowing so much dramaturgical DNA.
In Really Really, which MCC Theater opened last night at the Lucille Lortel, Mr. Colaizzo doesn't offer Mametian dialogue; his is a naturalistic, slangy, amusing take on how college kids talk today. And Really Really isn't a play with an overarching air of cynical menace; that's old-Mamet territory now owned by MCC's resident playwright, Neil LaBute. But its plot, themes and setting—the intersection of sex, politics and ambition in a campus crucible; the characters each working the angles for his or her own ends; the tense question of who is conning whom—make the lineage unavoidable.
The play opens with two girls drunkenly arriving home from a party. One is Ms. Mamet's character, Leigh; the other is her privileged, do-gooder roommate, Grace (Lauren Culpepper). Both are wobbling and giggling, and Grace has a gash on her hand, about which she's not terribly concerned. It's clear they've had a good time, but things are not quite right: there's that blood, and Leigh is obsessively checking her voice mail for a call that hasn't come. In the next scene, which has shifted to a different campus apartment, this one filled with dudes, we learn why. It's morning, and fratty roommates Cooper (David Hull) and Davis (Matt Lauria) are waking up hungover after their annual kegger, at which Davis had sex with Leigh—who is dating their absent-for-the-weekend rugby teammate Jimmy.
As the first act progresses, alternating between scenes in the girls' and the guys' places, Jimmy (Evan Jonigkeit) returns from his beach vacation and, inevitably, learns of the Leigh-Davis liaison. In the meantime, we learn, surprisingly, first that Leigh was pregnant with Jimmy's child, and soon thereafter, horrifyingly, that Davis raped her and she miscarried. And then we start to wonder if any of these facts are true. This is Ms. Mamet at her best—steely and emotional and utterly convincing during her terrible revelation. It is also Really Really at its best, unexpected and thrilling and, as Davis confesses he was too drunk to have any memory of the night, ambiguous and discomforting.
In the second act, the ambiguity disappears and the play becomes simply uncomfortable. It is still an exceedingly well-made play: the dialogue is rich and the plot continues moves forward with precision. It remains deeply engrossing, thanks in no small part to David Cromer's stylish, crisp direction. The cast is excellent, and the design is lovely, especially David Korins's resourceful, suggestive sets and David Weiner's lovely, inky lighting. Mr. Colaizzo provides a number of very funny lines.
But as Leigh is revealed to be a venal, calculating fabricator—saying what needs to be said, doing what needs to be done, to snare that rich husband—you are forced to wonder: is this play offensively misogynistic? Or is it offensively disparaging of poor people? As its ham-handedness becomes more apparent, it becomes more off-putting.
All of the characters are stereotypes: the boys aren't just fratty jocks; they're spectacularly rich and connected. Leigh isn't just less well-off; she grew up so poor she never had lunch; her sister, Haley (Aleque Reid), who arrives to get in on Leigh's score, lives in a Super 8. The boys' one hardworking, good-student friend, Johnson (Kobi Libii), is, inevitably, black and an affirmative-action striver. They're also unpleasant, uninterested in the truth and only concerned with maintaining their status. Not just Leigh, but also Jimmy, who is determined to make Leigh's story true; Cooper, focused on maintaining his cushy life; and Johnson, abandoning the wronged Davis lest his friend's scandal hurt his job prospects.
Ambitious, organized Grace, at a Future Leaders of America conference, delivers a speech that baldly explicates Really Really's critique: "What we have learned," she tells her other upwardly mobile peers, "is with persistence, grace, a plan of attack and that secret weapon of ours—healthy selfishness—we can accomplish any feat. We can acquire any good. And we can get exactly what we want." After a final scene that strains credulity, every character—well, nearly every one—steps downstage in a coda to announce that, yes, they have gotten what they wanted. Really Really isn't attack on women, or the poor—it's an attack on a healthily selfish generation.
IN FROM WHITE PLAINS, a Fault Line Theatre production that opened last week in the tiny Studio Theatre at the Signature Center, a similar determination to get what he wants curdles a successful young filmmaker and ruins his relationship. But in this equally intriguing but ultimately less successful play, the writer and director Michael Perlman chooses to side with the optimists.
Ethan (Aaron Rossini, co-artistic director of Fault Line) is a regular guy, at home watching the Oscars with his best friend, John (Craig Wesley Divino, the other co-artistic director), when he hears himself called out as a onetime bully on global TV. Dennis (Karl Gregory), a young gay filmmaker, has just won an Academy Award for his indie film about a bullied gay youth, and in his acceptance speech, he speaks of the friend who inspired it, Mitchell, whose bullying at the hands of one Ethan Rice, he says, led Mitchell to suicide. Ethan, stunned, posts a YouTube response-cum-apology the next day, which leads to a war of online videos between an increasingly angry Dennis and an increasingly tormented Ethan. Gregory (Jimmy King), Dennis's boyfriend, watches powerlessly as his partner becomes more and more vindictive and unlikeable.
This is a fascinating set of premises: how the bullied can become the bully; who is right and who is wrong when one person has done horrible things in the past but another is doing horrible things in the present; what sort of vengeance is appropriate against a guy who was a spectacular ass in high school but has matured into a mildly offensive, run-of-the-mill everyman; what happens when a man who still feels belittled now has the power and prestige of being an award-winner.
And yet From White Plains never becomes as compelling as it should, in part because of Mr. Perlman's lumbering direction—there is a simple living-room set, lit in bright white, that alternately serves as Ethan's apartment, Dennis's apartment and whatever other scene is necessary—and in part because the characters and developments often seem unbelievable. It's hard to accept that Dennis, evidently a narcissistic self-righteous bully, once created a sensitive indie drama. It's hard to understand why John, who confesses to having been bullied in high school, would have become best friends with Ethan, who as an adult may not be a bully but is still domineering. And while Dennis delivers a lovely final-act speech about how anti-gay bullying in his youth haunts him even in his success, it seems incongruous with the character we've watched for the previous 80 minutes.
That speech does redeem the character a bit, but it doesn't quite redeem the play.
editorial@observer.com