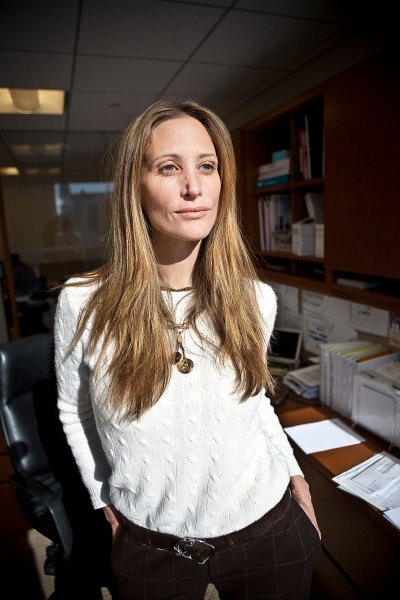 In the 31st-floor offices of SWW Creative, the walls are beige, the carpet is gray and the cabinets are standard-issue wood-grain. There's no Eames armchair, no runway stills splashed across the walls, not even a lucite coffee table with a copy of Grace Coddington's memoir. There's not a flower in sight.
While fashion professionals are known to obsess over the color of their pens, SWW Creative's offices are about as splashy as an insurance agency's. Stephanie Winston Wolkoff is not concerned.
Ms. Wolkoff, who orchestrated Mercedes-Benz Fashion Week's Lincoln Center expansion, isn't in it for Smythson notebooks or a pair of Céline fur sandals. She is an executor first and a fashionist somewhere further down the line, finding more satisfaction in a spreadsheet than an Avedon. Though she's a front-row fixture and a special-occasion catwalker, she doesn't scour the runways for her own closet. Instead, Ms. Wolkoff, who stands a statuesque 6-foot-1, prefers the simplicity of a uniform—Ralph Lauren is her everyday.
"The outside world thinks that Fashion Week is so amazing and so glamorous and so over-the-top," said Ms. Wolkoff, who has been overseeing the twice-annual event since 2009. "Is it important to have celebrities there? Great. Is it important to have the athletes in the front row? Super. But the truth is, this is a business."
And yet, by acknowledging as much—and reimagining Fashion Week as populist and business-friendly—she has rankled fashion's artistes, who feel that recent changes have given the event a noticeable odor of commerce. Under Ms. Wolkoff's tenure, corporate sponsorships have taken center stage in a lobby concourse that more closely resembles the Javits Center than the heart of couture. Also, for the first time, there are events for the public, in the form of fashion-art collaborations with Lincoln Center's performance groups. It's gone from a tent to a circus.
"Lincoln Center is amazing—they have amazing facilities, they have everything you could possibly need," said Stefan Golangco, the communications director of progressive menswear line Asher Levine. "But our brand is also about being underground and being off-schedule and being a little bit … maybe less commercial. [Showing at Lincoln Center] doesn't feel unique to your brand, especially if you're a small label. You kind of get lost in the shuffle."