At Lincoln Center, Ms. Wolkoff expanded on the foundations laid by Fern Mallis, the founder of Fashion Week, whose efforts put American designers on the global fashion map.
"We wanted to compete with Paris and Milan and other world capitals. There was very limited international business coming to New York, because we weren't organized," Ms. Mallis told The Observer. One of the initiatives she pursued was corporate sponsorships that would help offset the costs of the runway productions.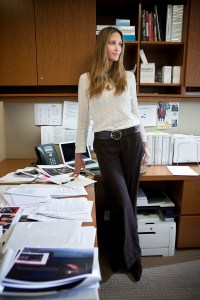 Ms. Wolkoff nurtured those relationships, creating events that were open to the public rather than only buyers and editors, prying open the former fashion fortress and transforming it into a sprawling campus. "My goal was to put fashion on par with all the other cultural institutions that were at Lincoln Center," Ms. Wolkoff said. "I always wanted to somehow democratize Fashion Week in a way that hadn't been done before. I wanted to create a place where editors, models and designers could rub elbows with the everyday person."
Some designers have balked at the new venue and the new vision, opting to take their shows elsewhere. Marquee New York brands like Proenza Schouler, Marc Jacobs and Alexander Wang have all decided to sidestep Lincoln Center. "The feedback I've gotten is that it's way more commercial out there. But at the end of the day, that's what it's about," Ms. Mallis said. "I certainly miss Bryant Park."
Mr. Zee says that Ms. Wolkoff's innovations have "matured" the biannual event. A self-proclaimed "fashion dinosaur," he has been to shows at every fashion week, since long before they ever found a home at Bryant Park.
"I kind of love Lincoln Center," he said. "She's really made it into a true event. It's not about going to a fashion show and leaving—she makes it into a true experience. It's like growing up: Bryant Park was the teenage years, and now you grow up and you migrate uptown. It's bigger, more glamorous … it's more what it is."
At the end of the day, the models need to walk, the buyers need to shop, the editors need to see the season's best and the designers need to sell their handiwork. It's a trade show.
"If you look at who's involved in fashion, there's glamour, and smoke and mirrors, but it is a true business," Vanessa von Bismarck, co-founder of fashion PR firm BPCM, told The Observer. "[Ms. Wolkoff] is someone with a business mind and [she] knows how the business works."