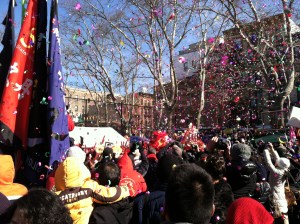 The Observer welcomed the Year of the Snake on the morning of Sunday, Feb. 10, leaning over railings and standing atop park benches to get as close as legally possible to 500,000 rounds of firecrackers, noisemakers and a snake-shaped firecracker display.
According to Chinese tradition, firecrackers frighten away evil spirits at the beginning of each year. Rest assured, no evil spirits remain in Sara D. Roosevelt Park, where thousands buzzed through a cloud of smoke and confetti at the 14th Lunar New Year Firecracker Ceremony and Cultural Festival, presented by the Better Chinatown Society.
This year, the society set out to engage younger generations of Chinese-Americans and the larger New York community in the celebration of traditional Chinese culture.
Longtime organizer Steven Tin spoke with The Observer on the eve of the New Year to explain just how far the organization has come in its endeavor. "This year it really jumped," he said. "It really jumped to new heights."
"The newest technology really helped us expand and get the word out," explained Mr. Tin. "The last two to three years, we've attracted a lot of mainstream, a lot of the younger generation into our event."
One example: 24-year-old Jessie Zheng, a first-time participant, who told The Observer that she first heard about the event through a friend. Since last June, Ms. Zheng has joined high school and college-age volunteers, who network online, in planning the Lunar New Year celebration. Ms. Zheng is this year's volunteer coordinator and head of public relations.
Before the first firecracker exploded on Sunday, a full roster of community leaders took turns at the microphone to pay tribute to one of the fastest-growing communities in the city. Councilwoman Margaret Chin and City Comptroller John Liu joined judges and police officers in wishing the crowd a happy New Year in their best Mandarin and Cantonese. And Councilwoman Gale Brewer, of the Upper West Side, made sure to thank Chinatown for helping to attract tourists to the city.
Maybe it was the adrenaline from the pyrotechnics and the sparkling confetti, but throughout the morning's celebration, a sense of optimism radiated through the crowd.
Children and families in the park were busy trading lucky red envelopes as the Chinese and American national anthems resounded over the loudspeakers. On the far end of the basketball court, young dancers and acrobats sporting traditional red and yellow garb practiced their routine for the highly anticipated dragon dance. Even a jovial Ronald McDonald was there to celebrate with youngsters in the crowd.
The New Year was off with a bang, and the new generation was there to carry it forward.