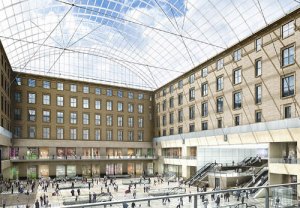 David Gunn was never a fan of Moynihan Station. When he was president of Amtrak during the early George W. Bush years, he pulled the railroad out of the project, which seeks to recreate the glory of the old Pennsylvania Station in the James Farley Post Office across Eighth Avenue. At the time, costs were the stated reason: Amtrak was expected to contribute to its new home, and Mr. Gunn said that the railroad had more pressing needs.
Current Amtrak President Joseph Boardman picked the project back up in 2009, and though it's largely unfunded, Amtrak still intends to go through with the move. This, Mr. Gunn told The Observer this afternoon from his home in Nova Scotia, would be a mistake.
"From a transportation point of view," Mr. Gunn said, "it makes no sense." For passengers coming from the 1/2/3 trains, "what the Farley Building does, is make you walk from Seventh Avenue all the way across Eighth Avenue. You'll have to go under the Eighth Avenue subway, then climb up to the [new] head house, which is to the west of Eighth Avenue, over towards Ninth Avenue. And then, you walk back to where the train is! The trains are still going to be between Seventh and Eighth avenues." For passengers arriving at Moynihan Station via the IRT Seventh Avenue Line, Mr. Gunn said, "they've gotta walk almost a mile." (By our estimates, a mile might be a bit of an exaggeration, but the schlep across Manhattan's long avenues won't be negligible.)
"Now the swells"—Mr. Gunn's term for the real estate interests backing Moynihan Station, including the Related Companies and Vornado Realty Trust—"they told me, 'But people come by cab!' No they don't—Amtrak passengers, a lot of them, come by subway. They're normal people."
Mr. Gunn, who has managed transit agencies in Washington, Philadelphia, New York, Boston and Toronto, noted that New Jersey Transit built a concourse in 2002 that empties out on Seventh Avenue, reflecting its closer proximity to Manhattan's center of gravity and most of its north-south subway lines.
One way to accomodate the head house at the old Farley Post Office, Mr. Gunn said, without forcing travelers from Seventh Avenue to double back across Eighth Avenue, would be to simply continue to allow passengers to board at the current station. "But they didn't want us to let people on at the old Penn Station, because I think the real estate developers had shops they wanted people to patronize at the Farley head house." (Since then, Related and Vornado have themselves wavered on the retail plan, citing a lack of demand.)
"You ask the swells why it makes sense," continued Mr. Gunn, "and they'll immediately talk about the experience of walking through the [Moynihan] head house. Real travelers—they know the back alleys. Some of the really experienced travelers, they never even go up the mezzanine. They just want to get on the train."