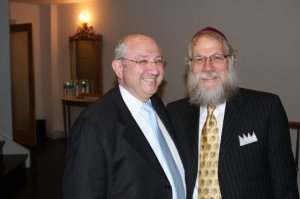 Three years after a lopsided loss to David Greenfield in a contentious Brooklyn special election,  Democrat Joe Lazar found out this week he owes more than $200,000 to the Campaign Finance Board. Mr. Lazar's campaign committee Friends of Lazar was fined a grand total of $236,774 and forced to repay all of the public funds it received. The fines are unusually high for a City Council candidate and were revealed when the CFB, which audits all city campaigns, completed their audit of his operation.
"In rare circumstances, the CFB requires candidates to repay all public funds in response to serious violations," said CFB spokesman Matt Sollars.
Mr. Lazar was fined $123,874 for vastly exceeding the CFB's strict spending limit. The limit for the 2010 special election was $168,000 and Mr. Lazar surpassed that by $41,291.33. More notably, Mr. Lazar was also fined an additional $20,000 for failing to report expenditures Assemblyman Dov Hikind, a Lazar ally, made through his own campaign committee and his political club, the United New York Democratic Club, on Mr. Lazar's behalf.
According to the audit, Mr. Lazar's deputy campaign manager received payments from both the campaign and United NY, the campaign shared space within United NY's office and Mr. Hikind's campaign committee, political club and the Lazar campaign had "overlapping financial relationships" throughout the special election. Paid, coordinated campaign activities between a campaign and an outside entity must be reported as an in-kind contribution, according to campaign finance law.
It was first reported in 2011 that Mr. Hikind had directed up to $30,000 from his campaign account toward Mr. Lazar. The 2010 open race for the Boro Park, Bensonhurst and Midwood seat was to replace Simcha Felder, who at the time had stepped down to become a deputy comptroller. Mr. Felder is now a State Senator representing the area.
A call to Mr. Lazar's campaign committee went unanswered.