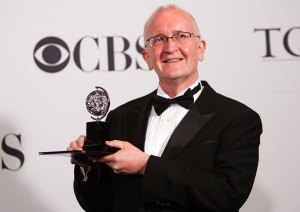 They call him "The Actor Whisperer," this soft-spoken Scot who finesses quality work from his casts, more often than not without them ever being aware of the strings he pulls or the buttons he pushes. John Doyle's directing is subtle sleight-of-hand stuff, and it doesn't get nearly the amount of press as his signature mannerism—turning his actors into his orchestra by having them play musical instruments as well as roles.
That's how he bowed on Broadway, with Patti LuPone doubling on meat pies and tuba in 2005's Sweeney Todd. He followed that with Raul Esparza on piano in 2006's Company. The first got him a Best Director Tony, the second a Best Musical Tony.
You gotta get a gimmick, as Stephen Sondheim once wrote, and, although Mr. Doyle bristles at the word, the truth is that his idiosyncratic style has put him on the map. The approach came into existence circa the early '90s, when he was artistic director of The Liverpool Everyman, one of four ragtag regional theaters he ran in England. He decided to do Leonard Bernstein's sprawling Candide on a shoestring. Because he couldn't afford actors and an orchestra, he combined the two and hoped for the best. The result was good enough for Mr. Doyle to repeat the actor-musician combination a good 20 times over the next 20 years—and refine it.
Of course, the means must match the material. "It's a way of storytelling, if the story is appropriate for that style," he said in a recent interview. "If it's not, you just don't do it."
So you won't find the homely Fosca carting around an accordion in her hot 'n' heavy pursuit of the handsome Giorgio when Mr. Doyle starts previewing his Passion on Feb. 7 at Classic Stage Company. It's the first musical that CSC has attempted, and the first time the show has been back since it won the Tony for Best Musical in 1994.
"Looking at it on a practical, pragmatic level," he said, speaking of his approach to Passion, "I said, 'Sure, I'd do a musical for you, but I didn't want to do one where people play musical instruments. That's what people expect me to do. I've spent most of my life not doing that. I want to find something that would be appropriate, that fits your classical form and your title as a theater.'"
When he began thinking of what to do for CSC, he started at Mr. Sondheim, who, as it happens, had first brought him to CSC two years ago to see Three Sisters. "I always start by thinking, 'What can I do of Steve's?' Because why wouldn't you? It doesn't get any better. Then, somehow, Passion just seemed an obvious fit: the story is classical, set in another century, and the passions of it are the kind of passions that are discussed and explored in classical drama."
He tried the idea out first on Mr. Sondheim and then on James Lapine, who did the book and directed the original production. "I was a bit self-conscious about asking, because I'm sensitive about not wanting to tread on any toes—James did the only production that's been done in New York—but both were supportive of the idea.
"And I do think the score is very beautiful. It has a wonderful lushness that we're not always used to hearing from him. And also, I like the way the songs and the text merge in it. There are no applause points. It flows, like a poem, and I just love that."
The source of Passion—Ettore Scola's film about obsessive love, Passione d'amore, which flickered fleetingly through the 1981 Cannes Film Festival—didn't make sizable ripples on these shores. Two years passed before it crossed Mr. Sondheim's line of vision and there was a resounding creative click. He saw it as a challenge, convincing audiences that the young and dashing Giorgio (with or without his married mistress, Clara, back in Milan) would succumb to the insistent overtures of Fosca, the sickly spinster cousin of his commanding officer at a remote military outpost. The love triangle has roots in reality: Fosca, Iginio Ugo Tarchetti's 1869 novel, fictionalized an affair he had with an epileptic woman while he was a soldier.
"I liked the film, but the novel is a little hard-going," Mr. Doyle admitted. "There's some very interesting stuff in both, but I wasn't looking at them to find new ways into the story. I'm a believer that you should be doing the text that's in front of you. Don't get sidetracked by what went before. It's actually not my job to do that. It's the writers' job to do that. My job is to interpret the material these guys have provided."
Giorgio, in the director's view, is not merely a boy toy who is flattered into an affair with someone he realizes truly loves him. "If he's just a victim of hers, he's not that interesting. He can't fight it, but then he does discover, in some ways, what real love is—through Fosca. His relationship with Clara is impossible. She's a married woman with a child. That's not going to happen. This is 19th-century Italy. It's not today on Park Avenue. Then there's this single woman who, whatever her madness is, falls in love with him and declares that love wholeheartedly, overtly. It releases something in her, and he is forced to come to terms with that."
Judy Kuhn has rounded the bend before as Fosca—when Passion was part of the Kennedy Center's 2002 Sondheim Celebration—and she is happy to have Mr. Doyle steering her down this dark, difficult path again. "He works in a very collaborative, exploratory kind of way, which is totally my thing," she said.
For Melissa Errico, his Clara, he's a good omen. "He asked me to do a song from Oliver! for a Patti LuPone tribute he directed, and right after that I was asked to do the show with Brian Stokes Mitchell for a one-night benefit on Broadway."
Ryan Silverman, the Giorgio trapped in the middle of this tug-of-love, saluted the comfort level that Mr. Doyle managed to maintain in the rehearsal space. "After two days with him, it felt like a week," he said, hastening to add, "in a good way.
"Rob Berman, the music director, said—and I totally agree—that John has the seeming ability to slow down time. It seems like nothing is rushed. Things are tried several times, but not that much time goes by. There's something about his process that's very relaxing and very comfortable. You feel at ease to try things and make mistakes. And he has such an imagination that you can't help but go along for the ride. I think that's why so many of his productions are so interesting visually and so successful—because the actors are so engaged with each other."
Passion brought out the set designer in Mr. Doyle. He's done his own sets before—for Mr. Sondheim's Road Show in London and for Sweeney Todd on Broadway, for which he also did the costumes—but says he's not someone "who thinks I must design my own stuff. I don't have that kind of ego. Just occasionally, I get a piece where I say, 'Okay, I'm going to do this simply' and can find a way of doing it."
Mr. Doyle's next project takes him back to his actor-musician technique. Pump Boys and Dinettes, first produced in 1982, is the grandfather of the come-blow-your-horn/harmonica/whatever musical that Mr. Doyle didn't really invent after all. "Absolutely!" he gleefully agreed. "That show began it all! There's a certain kind of delicious audacity about my going to Broadway with it."
On April 8, this 30-year-old Tony contender for Best Musical will curl up cozily at Circle in the Square. "It'll be nice doing it there, because we're doing it fully in the round," said Mr. Doyle. "That'll make it more environmental, and intimate." There'll be a lot of grub rustled up on the premises, and a bar has been installed, à la Once.
A feel-good musical with a distinct country-and-western twang, the show celebrates small-town Americana, focusing on four guys who work at a gas station on Highway 57 in North Carolina, and two sisters, Prudie and Rhetta Cupp, who operate the Double Cupp Diner next door. It's light-years removed from Sondheim.
The score was composed by the original cast of six—Jim Wann, John Foley, John Schimmel, the late Mark Hardwicke, Debra Monk and Cass Morgan. The men handled guitar, piano, bass, et al., and the women played percussion, including kitchen utensils. "They wrote the songs, the book, everything, all of them, and they've really been involved in it again—in the casting and decision-making."
Bo Bice, an American Idol also-ran, and Alexander Gemignani, a Sondheim staple (Assassins, Sweeney Todd, Passion, Sunday in the Park with George, Road Show), head a cast that includes Erik Hayden, Justine Hosek, Jane Pfitsch and Leenya Rideout.
Mr. Doyle's mixing in this milieu is not as surprising as it might seem. During the Broadway run of Company, he did a benefit for The Acting Company, and Ms. Monk was on the bill. "I'd never really met Deb Monk before, and hadn't put together the Pump Boys connection. She said, 'It doesn't seem like it would be your kind of thing, but would you ever be interested in Pump Boys and Dinettes?' I said, 'I love Pump Boys and Dinettes! I love country music! I went to the University of Georgia and spent part of my life in the south. People always think of me as doing serious stuff, but that's not all I do."
Not by a long shot. Next he's on to … opera. He's headed for the U.K. where, with Grange Park Opera, he's putting on Les Carmelites.
editorial@observer.com