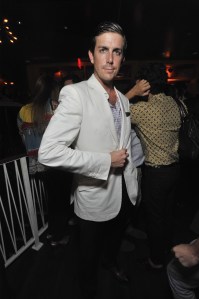 Tabber Benedict, one of The New York Observer's "Gatsbabies," who almost killed a man during a drunk driving incident in the Hamptons two years ago, is taking his upcoming prison term in stride. The night before he was to be handed down a sentence of up to 10 years in prison for plowing his GMC Acadia into a 45-year-old teacher named Steven Dorn in 2011, Mr. Benedict threw himself a party at Bungalow 8 (or whatever we're calling it now. Number 8? The former Bungalow 8?).
He told friends that the party was in honor of his upcoming departure … for Europe.
A ridiculous way to save face in the off chance any of his friends read the news, the 35-year-old finance lawyer threw a bash on January 24, where he spun tales of the exotic travels for which he'd soon be departing, the Post reported today. He was given the space for free because he knew someone who ran the door. (Obviously.)
And yet … the 150 or so attendees were "shocked" to discover that the following morning, Mr. Benedict was not setting sail for Venice, but was sitting in court, apologizing to the man he hit while drunk and awaiting the judge's sentence. Well, one person wasn't taken totally off-guard. Gatsbaby and frenemy Justin Ross Lee told the paper: "I feel terrible for Tabber because I know there's no table service where he's headed. He's the most the pretentious person I ever met."
Then again, that might be a compliment coming from Mr. Lee, who runs the handkerchief line Pretentious Pocket. We just hope Benedict's jumpsuit has a breast pocket.