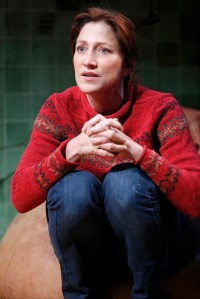 I've met Liz Flahive, author of the curious and compelling new drama The Madrid, having spent a dinner party once happily chatting with her, and I can report that she seemed entirely pleased and content with her husband, her child and her life. This is worth noting, because The Madrid, which opened last night in the Manhattan Theatre Club's Off Broadway space at City Center, is a fantasy about a mother, a kindergarten teacher, who one day up and leaves. It's a startling and disquieting portrait of cheerful abandonment, but it offers its audience only the subtlest of cues on how to react to this departure and its repercussions. As you're thinking through the play and trying to piece together a response—and it's well worth the effort—you should take solace, at least, that the playwright herself seems not to present a flight risk.
No, The Madrid's flight risk is Martha, with her loving husband and college-graduate daughter and career, and it is Martha's great fortune that she's played by Edie Falco. (Ms. Flahive's day job is as a producer on Nurse Jackie, in which Ms. Falco stars.) Among Ms. Falco's many gifts is the ability to render the abnormal normal, to make a monster human. Her scheming mafia wife in The Sopranos was also a put-upon suburban mother; here, a woman who suddenly walks away from her husband and her daughter and her job in loco parenting other, younger kids quietly holds onto our sympathy. The play's first scene is remarkable, an underplayed trauma in which we watch Martha competently run her class, and then, just as competently, get up and walk out.
As the play progresses, we watch Martha's family and friends try to come to grips with her unexplained departure. Her husband, Michael (John Ellison Conlee), also a teacher, is selling everything in the house, a curiously defeatist effort to move on. Their confused, conflicted, steely daughter, Sarah (an excellent, poised Phoebe Strole), puts her own life on hold to help her father and to try to understand what's happened. The neighbors, Becca (Heidi Schreck) and Danny (Christopher Evan Welch, to be replaced later this week by Darren Goldstein due to a scheduling conflict), already immersive parents to their own kids, take an outsize interest in this family, perhaps to avoid tensions in their own. (And also, it seems, to present a counterpoint, of a long marriage that sticks to the status quo, even with no one particularly happy in it.) Finally, Martha's mother, Rose (Frances Sternhagen, arch and funny in this comic-
relief part), keeps having small car accidents, probably to get her daughter's attention.
Sarah has taken a job at Starbucks, and that's where Martha tracks her down to wish her daughter a happy birthday. Secretly, the two strike up a wary friendship; Martha has moved to a rundown flat in a nearby city ("The Madrid" is the name of the pink-tiled apartment building), and in their conversations we learn more about Martha—that her escape was planned, that she has no intention of returning, that she's happy, or claims to be, with her near-empty refrigerator and fold-up chair-bed. But she won't give a reason for her departure, perhaps because there is none. She is sanguine, seemingly pleased with how things have turned out. Eventually, Martha returns—but only because she realizes that escaping from her life has left her daughter trapped in it.
The Madrid is smartly and engagingly written, and it is nicely staged by Leigh Silverman, who allows all of the characters—the absconded wife, the forgotten husband, the overburdened daughter, even the overbearing neighbors—their warmth and humanity. It is also hard to get a grasp of, elliptical and indirect, with suggestive strands—involving Danny, his odd son, Dylan (Seth Clayton), and Martha's past—that remain little more than suggestions. Martha's inscrutability leaves the play somewhat opaque.
Ultimately, this is a fairy tale, a vision of an easy exit into a Sliding Doors life not lived. Whatever is happening in it, it provides us two valuable takeaways: that vision of escape, and the satisfaction of knowing we're too responsible to ever do it.
ANYONE CAN FANTASIZE ABOUT ESCAPE, but to have the possibility of actual escape is a luxury. The crushing realization that arrives late in David Henry Hwang's The Dance and the Railroad, now in a haunting revival at the Signature Center, is that, for the Chinese immigrants building California railroads in 19th century, nothing—not even a successful strike—would change their lot in life.
Mr. Hwang's second play, from 1981, The Dance and the Railroad is set in the Sierra Nevada mountains during the 1867 strike by Chinese laborers against the Central Pacific, then working its way toward Promontory, Utah, and eventually the Golden Spike. (It is the second production in Mr. Hwang's Signature Theatre residency.) Ma (Ruy Iskandar) is a naive, 18-year-old new immigrant, convinced that he'll make his fortune in America, that winters in the Sierras are not cold and snow there does not melt, and that the Chinese will emerge from the strike victorious. Lone (Yuekun Wu), a wise 21, knows better. Before his family forced him to leave China to work on the railroad, he'd been training to be an opera star; he is using the time of the strike to practice his skills, and Ma wants instruction.
The play speaks to the challenges and demands of true artistry—"you don't know how you endanger your relatives by becoming an actor," Lone tells Ma after recounting a story about a man whose father exploded on hearing the news—while also recounting the Chinese immigrant experience. Its most moving segment is when Lone and Ma improvise Ma's own opera, using traditional technique to tell his typically harrowing story. Then the strike ends, and Ma, who has become caught up in the fantasy of an artistic life, realizes everything is, alas, still the same. For the first time, this giddy enthusiast has hardened.
Mr. Hwang's script mixes a reverence for the traditional with amusing anachronistic dialogue, and sets it to long segments of traditional Chinese dance. May Adrales directs, Qian Yi is the Chinese opera consultant, and Mimi Lien and Jiyoun Chang designed the set and lights. The scenes and images they all create are deeply beautiful, and the play is deeply sad.
editorial@observer.com