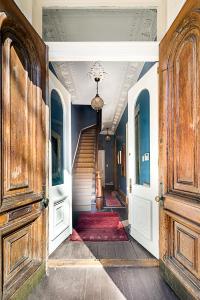 Girls cinematographer Tim Ives has been receiving his latest paychecks thanks to northern Brooklyn's most famous show, but he's poised to collect an exceptionally fat check from the sale of his South Brooklyn townhouse. Mr. Ives and wife Sonia have just listed their Cobble Hill home for a healthy $3.5 million (it may be a bit too late for Christine Quinn to save this neighborhood).
The couple picked up the South Brooklyn pad, at 173 Warren Street, in 2003 for a mere $1.4 million, according to city records, so they should be able to buy themselves something nice with the difference. Maybe something a little more womanly? Like a Tribeca loft?
Besides the fact that Cobble Hill townhouses are now trading for $6 million, what might help the couple rake in more than double what they paid?
"The crown moldings are all original," Terry Naini, the Town Residential broker who has the listing, said of the 1860s Greek Revival (Ms. Naini schooled The Observer on the difference between Federal Style and Greek Revival: the latter has bottom-level brownstone facade with brick above, whereas Federal Style homes are all brick.) "Which these days is hard to find, because either people ruin them, or they're not in good shape."
The parlor level also retains its original full-length windows, rare in such an old home.
Despite the original detailing, the home is not entirely old-fashioned, but has plenty of modern amenities, including an en-suite bathroom off the master bedroom. It also features a backyard addition, which allows room for a separate kitchen (two of them, in fact!)—a rarity give the loft-like open kitchen trend of late.

The home is currently subdivided, with a garden apartment level sitting below the main triplex, though it will be delivered vacant, so the future owner is free to either combine the units for a spacious 3,825 square feet or keep the units separate and rent out the bottom to offset the purchase price. Alternately, the basement apartment may also prove a convenient place to stash the in-laws ("We thought you'd enjoy the privacy!" is a good line to use when you're shunting your wife's parents off to the "garden" level).
Our sources indicate that Mr. Ives and his wife will be staying in Brooklyn (sorry, New Orleans, but this Treme cinematographer will not be buying in the Ninth Ward), though they're waiting to sell the house to decide where exactly. (Maybe Brooklyn Heights, to be close to Lena Dunham?)
Normally we wouldn't suggest a vinyl-sheathed 'hood like Greenpoint, but we're always struck by the stunning brownstones that form the backdrop of Girls (that isn't really Greenpoint, is it?!). Well, Mr. Ives would know.