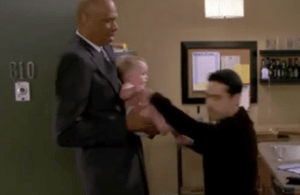 Celebrities are really at their best when they get a forum on Huffington Post, don't you think? Whether it's the award-winning James Franco, a huffy Alec Baldwin or a proselytizing Jenny McCarthy.
But usually these stars stay on topic: either promoting a personal cause or giving you their armchair analysis from an "expert's" perspective. (Or just talking about whatever is going on in their lives right now.)
That's why it was so exciting to see NBA Hall of Famer Kareem Abdul-Jabbar weigh in recently on his feelings about Lena Dunham's HBO show, in an article called Girls Just Wants to Have (White) Fun.
Yesssss …

It's not as if Mr. Abdul-Jabbar breaks any new ground in his article, which rehashes the same arguments about Girls that have been made a million times by less famous people. Like it's "mostly white" and the characters are "too self-conscious" and "not funny," plus "They like to talk about (and sometimes engage in) sex." All valid, if slightly overworn, points!
But then you read into the substance below the basketball legend's talking points, and things just start getting weird:
This season that white ghetto was breached by a black character who is introduced as some jungle fever lover, with just enough screen time to have sex and mutter a couple of lines about wanting more of a relationship. A black dildo would have sufficed and cost less.
As Donald Glover playing a black Republican law student would say, "What?"
Also, did you know that Wonderfalls and Seinfeld were both "braver" and funnier than Girls?
Seinfeld made it a point to ridicule the characters' shallowness and self-involvement, raising it to a level of social commentary. And it was funny. Two other girl-centric shows that reached these same heights to be voices of a generation were My So-Called Life and Wonderfalls. Both funny, yet also insightful and original. Perhaps that's why they both only lasted one season before becoming cult hits. Girls, a safer more mousy voice, has already been renewed for a third season.
In summary, Mr. Abdul-Jabbar loves Girls:
Girls' heart and mind is in the right place. It wants to be more than the sum of its familiar parts. And sometimes it is. Maybe this season its voice will be louder and clearer and have more to say. It's worth listening for.