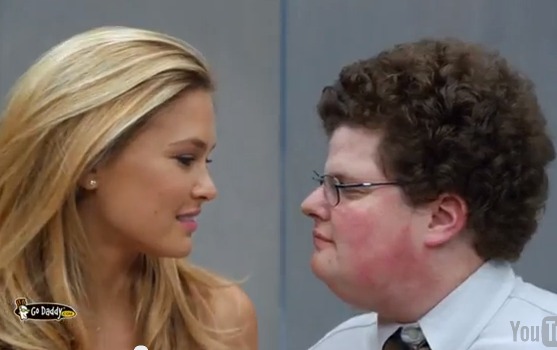 Betabeat makes no secret of its disdain for Go Daddy's series of "smart vs. sexy" ads. They make this reporter want to toss a brick in the shape of Andrea Dworkin's face through a plate glass window before escaping in a getaway car blaring Bikini Kill, Thelma and Louise style.
The august executives of Go Daddy, however, are very proud of their Super Bowl ad, featuring supermodel Bar Refaeli loudly and lewdly sucking face with an anonymous tech nerd meant to symbolize "smart." They've released a statement trumpeting how many new customers the spot delivered (in conjunction with a second ad, which featuring nagging wives trying to talk their husbands out of brilliant ideas).
But it seems the announcement was primarily an excuse for the executives of Go Daddy to laugh publicly at their own jokes. Said founder and noted humorist Bob Parsons (emphasis ours):
"Inappropriate? Hearing that word, I absolutely knew we were in for a record Super Bowl ad campaign. And by the way, I think both of our ads were the funniest in the game, by far."
Maybe if you're comparing it to that Audi commercial suggesting it's totally okay to grope the prom queen.
CEO Blake Irving also refuses to apologize for what they have the nerve to call "The Kiss" in a breathtaking insult to the Klimt painting of the same name:
"It's sparking conversations. It was approved by network Standards and Practices and it uses humor to illustrate the point about how powerful a combination 'sexy' and 'smart' are. Personally, I think it's hilarious!"
ROFL! Solid branding, you guys.