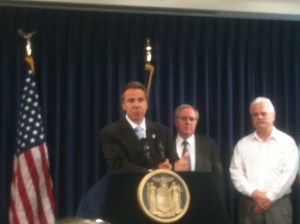 At his Midtown office this afternoon, Governor Andrew Cuomo briefed reporters about the severe winter weather currently bearing down on the New York City area. Though the governor announced he declared a state of emergency "effective this afternoon" to give the state and local governments "more flexibility in dealing with this situation," he said the storm is not expected to cause any major damage along the lines of what the region experienced during Hurricane Sandy.
"Well you've heard of Finding Nemo, it seems like Nemo has found us," Governor Cuomo began, riffing off the Weather Channel's name for the storm. "As everyone knows, we're expecting a severe winter storm, but nothing more than a severe winter storm. We've been preparing for it for a number of days now."
Governor Cuomo said the storm's impact will be felt in the New York City area and Long Island, where he said it will be "even worse" than in the five boroughs. He also forecast heavy snows will hit the "eastern part of the state up north."
In spite of the snowstorm, the governor said the "MTA expects to remain operational." Airports, however, will be closed this evening and Governor Cuomo said 2,300 flights have been cancelled. He also said "approximately 3,000 people" have lost power and that state officials will be "monitoring" the power outage situation.
"In sum, this is a serious, severe storm, a winter storm, but we just went through some really terrible storms with Hurricane Sandy. We are not anticipating anything like that," said the governor. "That's the good news. So, severe winter storm, a lot of shoveling, stay indoors if you can get home. But we've been through worse than what we're talking about, so it's all relative at the end of the day."
After his closing remarks, Governor Cuomo asked the assembled reporters if they had any questions. There were none.
"Great, that was a thorough and exhaustive briefing," he quipped.