One night this week, you may be at home, minding your own business, and find yourself on the receiving end of a phone call from John Catsimatidis. Your next brush with him might happen when you're driving or sitting in front of the television. These encounters will, no doubt, be memorable, thanks to the candidate's loud squawk of a New York accent and his decidedly distinctive appearance. With an ample gut and a face padded by a prominent second chin, Mr. Catsimatidis looks less suited for prime time than for a caricature by the pioneering political cartoonist Thomas Nast as a mass of jowls and bursting blazer buttons.
Over the next few months, the businessman plans to spend several million of his own dollars to take his mayoral campaign to the phone lines and airwaves in an effort to show New Yorkers he's a more approachable, homespun brand of billionaire than Michael Bloomberg.
"I grew up on 135th Street. I grew up on the poor side of New York. I grew up in Harlem. I was a store owner. I'm still a store owner," Mr. Catsimatidis told The Observer on the phone from a weekend vacation in the Bahamas. "I'm not a Bloomberg billionaire. I am a real New Yorker … I didn't go to Harvard, I didn't go to Yale … I rooted for the Yankees, I didn't root for the Boston Red Sox."
Mr. Catsimatidis indeed lacks the present mayor's patrician polish. While Mr. Bloomberg cuts a sleek figure in designer clothes and betrays his Harvard MBA in his fondness for taking careful, heavily researched, data-supported positions, Mr. Castimatidis and his opinions regularly seem to spill out of his rumpled, well-worn suits. His campaign kickoff in January ended with Mr. Catsimatidis's staff pushing him away from a pack of reporters and toward his car as he continued holding forth on everything from his cuff links to his plan to serve for a salary of only 99 cents a year.
"I don't want the political consultants to decide. I want the voters to decide," Mr. Catsimatidis said of his approach.
So far, it doesn't seem like Mr. Catsimatidis has managed to connect with New Yorkers. Last week's numbers from NY1 and Marist showed 5 percent of Republican voters supporting Mr. Catsimatidis, compared with 20 percent for former MTA Chair Joe Lhota and 8 percent for Doe Fund founder George McDonald. However, Mr. Catsimatidis plans to deploy some of his massive personal fortune to improve his standing, setting up his campaign as the ultimate test of how much credibility money can buy. "Right now, you know, we're budgeting a million dollars a month," said Mr. Catsimatidis. "We'll see where we go."
That budget sets Mr. Catsimatidis up to spend at least $8 million between now and the primary, which is scheduled for September. While that's a far cry from the approximately $87 million Mayor Bloomberg averaged during his three runs for office, it's enough to give Mr. Catsimatidis an edge over Mr. Lhota and the Democratic front-runners, who are subject to a $6.4 million spending cap as recipients of matching funds from the city's public campaign finance program. Mr. Catsimatidis believes he can use that financial advantage to make himself a familiar face.
"Look at the Marist poll; they interviewed 172 people. Give me a—how do they say it?" He bellowed for emphasis: "Give me a break."
At his current clip, Mr. Catsimatidis claims he's already spent enough to make telephone calls to about 17 percent of the city. "Look, we did 400,000 robocalls this week, we're going to do another million next week, and then we're going to roll out radio and television in the next couple of weeks," explained Mr. Catsimatidis. "You know, Lhota has had a lot of public recognition as MTA chief, so his name recognition is a lot higher. So, tune in in a couple of months and tell me about the polls then."
Even if he manages to pull off an upset against his Republican rivals, Mr. Catsimatidis faces long odds in the general election against whoever emerges from the primary pileup on the Democratic side. The same Marist poll showed all of the top Democrats beating Mr. Lhota by a 3-to-1 margin in a hypothetical November matchup. Pollsters didn't even bother testing general-election matchups featuring Mr. Catsimatidis.
An operative working with one of the Democratic candidates described the businessman's bid as a rather amusing sideshow: "At this point, I'm not sure he takes himself seriously, but it's nice to add a little levity to the race."
But doesn't a billion-dollar fortune command some attention? The operative we spoke with was blunt. "The last thing we think about or plan for is John Castimatidis. There's no appetite for another billionaire Republican in this Democratic town," the operative said, shutting us down before we could press the point any further: "I don't know how else to put this; we don't give a shit about him."
For his part, Mr. Catsimatidis thinks his rivals are foolish to dismiss him. "Don't underestimate this kid that came from a little Greek island to 135th Street and rose to the top of American industry," he said.
In Greek mythology, Nisyros, the volcanic island where Mr. Catsimatidis was born, sprang from a rock that the sea god Poseidon used to crush a rampaging giant. Mr. Catsimatidis, who came here in February 1949 at six months old, is fond of recounting his own mythos, a journey from Nisyros to New York City where he took on retail giants and opened a grocery store that blossomed into a full-fledged empire, complete with a marriage to a former ballet dancer and a penthouse overlooking Central Park.
Though he is most often associated with the Gristedes chain, Mr. Catsimatidis's estimated $3 billion net worth stems from a complex web of companies including a Pennsylvania oil outfit, a Greek-American newspaper and hundreds of real estate holdings throughout the city and country.
He's not concerned that his immense fortune will alienate voters. "I'm not ashamed of being successful. You know, they criticized Romney for being ashamed of it," Mr. Catsimatidis said. "I think we've got to inspire our kids that we shouldn't be ashamed to be successful."
In fact, Mr. Catsimatidis thinks his business background will prove an asset against the career politicians on the Democratic side. Last week, he made a jab at the Democrats before an audience he described as "30 hedge fund guys."
"I said to them, 'You guys own a lot of companies. Which one of those three candidates would you put in charge of one of your companies?'" he recalled, referring to Christine Quinn, Bill de Blasio and William Thompson. "It took about two minutes for the laughter to calm down. Okay? And I'll leave it at that."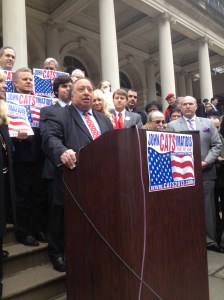 One of his more memorable moments on the campaign trail thus far came when Mr. Catsimatidis appeared on NY1, arguing that targeting the wealthy for tax increases was akin to Nazi Germany scapegoating the Jews. Despite the backlash, he isn't backing down from that comment.
"I got criticism because I brought up the Jews, but you know, I'm part Jewish. I mean, call my rabbi!" said Mr. Catsimatidis. "And what I said is, what Hitler did in the '30s, he blamed the Jews for all of Germany's problems, which was wrong. It was wrong … Don't pick on any group and hit them and say, 'It's Wall Street's fault our country is in a tizz—or in a recession.'"
Mr. Catsimatidis was also willing to offer his uniquely articulated opinions on several other controversial issues. On gay marriage, Mr. Catsimatidis believes that government should "let them do whatever they want on a personal basis." As for gun control, Mr. Catsimatidis carries a pistol, yet he favors strong background checks for gun owners. He also thinks there may be links between mass shootings and prescription medications.
"You know, you see these commercials on television, 'Take this pill and you'll feel better from your backache, but you may commit suicide.' You know, you see some of these commercials and they're crazy," explained Mr. Catsimatidis. "Think about what I just said … When you press one button in to fix something, sometimes another button pops out. I'd like to know what kind of psychological drugs that kid was on in Newtown."
Mr. Catsimatidis obviously isn't worried his frank approach to politics will prove to be a liability. He cited the late Mayor Ed Koch, who was in constant contact with the press and infamously engaged with city residents out in the streets, as proof his brash tactics have their charms.
Mayor Koch isn't the only Democrat whom Mr. Catsimatidis openly admires. Though he spent the past presidential election lining Mitt Romney's pockets, Mr. Catsimatidis was previously an influential fund-raiser for Bill Clinton. "I'm a Bill Clinton social Republican," Mr. Catsimatidis said. "As a businessperson, I'm a Republican businessperson. So, I feel it's a fusion candidate. I appeal to both sides."
Mr. Catsimatidis has also donated to several of his mayoral rivals. Two of the Democrats in the mayor's race, Bill Thompson and Bill de Blasio, both received over $3,000 from Mr. Catsimatidis for campaigns they ran over a decade ago. Adolfo Carrión, who may face Mr. Catsimatidis in the Republican primary, also benefited from the billionaire's largesse, with a $1,000 donation in 2003.
"I think I can sit down with both sides, put my arm around both sides and come up with logical solutions that none of the other ones have the ability to do," Mr. Catsimatidis said.
Even if he really does think he can defy the odds, why would Mr. Catsimatidis spend his money and energies on a mayoral election rather than using his resources to gild his golden years? While other men of his stature might be content to seal their legacy with their name on a building, Mr. Catsimatidis wants something more.
"We got the money, I got the ability and I will speak my mind and do the right thing for people," declared Mr. Catsimatidis. "That's what my object is. My object is, for the next four years, not to make another billion dollars. My object is that, at the end of four years, people will say, you know, that son-of-a-gun did a real good job."
hwalker@observer.com