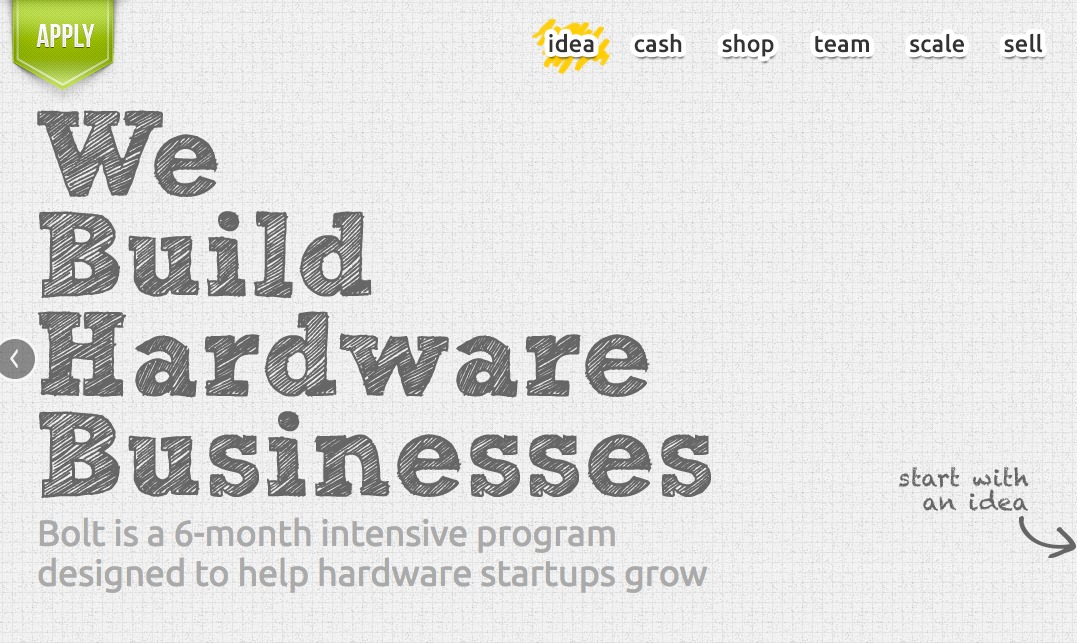 New York's resident robot-loving VC firm has made its third investment–though this one is a bit of a different bet than the last two, RobotAppStore (the name is pretty self-explanatory) and Double Robotics (which allows you to put your iPad on wheels, for the truly dedicated FaceTimer). Grishin Robotics has plowed an undisclosed amount of money into Bolt, a Boston-based hardware accelerator.
Logitech and Autodesk also kicked in a bit of capital, as did angel investors Mick Mountz (who has Amazon-acquired Kiva Systems to his credit) and the Foundry Group's Brad Feld. It's not clear who contributed how much, but the Boston Business Journal reports Bolt recently informed the SEC it had raised $3.5 million.
Founder Ben Einstein recently told the Boston Globe that Bolt's focus will be connected devices: "We're thinking mostly about off-the-shelf components being combined in new ways, where you might have a new device that works with a web service, or plugs into a mobile phone."
In a statement released today, founder Dmitri Grishin made it pretty clear this move is made not necessarily with the hopes of a big jackpot, so much as an eye toward boosting the whole hardware scene:
"The key to the upcoming consumer robotics revolution, I believe, is in the startup ecosystem. Talented hardware entrepreneurs, dreaming about a new generation of smart devices, do not have today a supporting community around, that is as developed as software developers do. That's why we have decided to invest in Bolt – this is an investment into the market's future."
Bolt expects to accept 25 companies over the next two years and is now taking applications. Companies accepted get mentorship, seed money and access to both prototyping facilities and engineering/design staff. Hopefully, the accelerator's admins will also throw in a parka and a space heater for the winter class, because Boston is cold as hell.