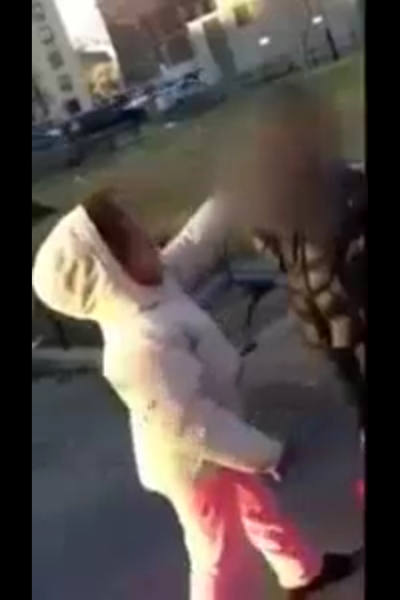 And now for today's horrible news that makes us question the state of humanity: a video was recently uploaded to Youtube depicting two young girls being forced to fight each other in a New York City park.
The video, now posted on Gothamist, shows two girls being aggressively encouraged to fight by what sounds like a group of older females, one of whom is presumably holding the camera. The two young girls, clad in puffy winter coats, appear no older than ten years old, and reluctant to fight one another.
"Slap her. Just slap her," one instigator yells. And then, after one girl hits the other, "Slap her harder."
Another taunts, "Whoop that ass. Just do it."
Eventually the young girls engage in a full-on brawl, complete with hair pulling and fist throwing. When one of the little girls ends up in tears, an older female audibly yells to the filmmaker, "Catch the cry!" Laughter from the older female onlookers can also be heard in the background.
From the video, it is clear that the young girls have no interest in fighting each other. One yells to the cameraperson, "I'm not playing! I'm not playing!"
The Administration for Children's Services has been made aware of the video's abusive content, but until they have more information regarding the perpetrators of the abuse, there's not a lot they can do.
"We saw [the video], and it is very troubling," an official from the Administration for Children's Services told The Observer. "But there are all those unknowns—we don't know who are adults, where are the adults, where they live, [or] how we would go about investigating. There is nothing at this point for us to be able to conduct an investigation."
Part of the trouble is that officials have yet to confirm the video's legitimacy. The NYPD is also investigating the clip, according to Channel 4 News. The forced fight is believed to have taken place in either Manhattan or the Bronx. Police are encouraging witnesses of the forced fight to step forward and share their testimonies.
The New York State Office of Children and Family Services hopes that people take advantage of its abuse and neglect hotline in terrible situations like this.
An official from the OCFS told The Observer, "Our message to the public is, if you know of any instances where a child is being maltreated, abused, [or] forced to fight, please call the hotline and give us as much information as you can."
WARNING: DISTURBING CONTENT
[protected-iframe id="22b6d20093804294278bf97d5ef45dc3-35584880-41847290″ info="http://media.nbcnewyork.com/assets/pdk449/pdk/swf/flvPlayer.swf?pid=ZPX9KF04X_IX" width="576″ height="324″]