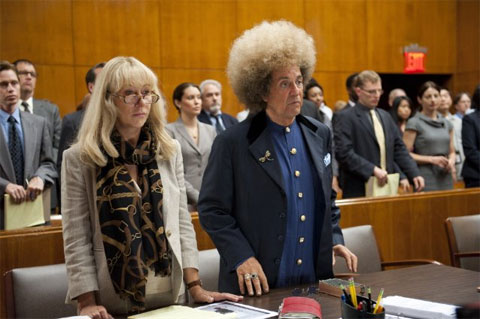 We haven't been this creeped out by Al Pacino since he played Dr. Kevorkian.
Thankfully, HBO has decided to bring Pacino back, this time as top record producer and convicted killer Phil Spector in David Mamet's TV film Phil Spector. Today, HBO released a second teaser to complement the first teaser and several film stills released earlier this month.
Spector, who was convicted in 2009 on second-degree murder charges, rose to music business fame in the 1960s, producing hit records like the Beatles' Let It Be and several albums by popular girl group The Ronettes.  He's famous for originating the "Wall of Sound," a production technique that uses dense, layered sounds.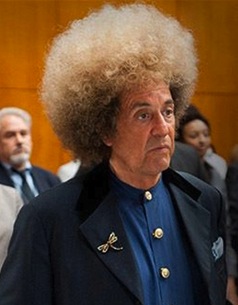 HBO's photo features a wild-eyed Pacino in full Spector fatigues, standing in a courtroom next to Helen Mirren as Linda Kenney Baden, Spector's defense attorney. As Spector, Pacino wears what we're calling a "Wall of Hair," a dense, blond wig that pretty much takes up the entire courtroom.
Spector was convicted and sent to prison in 2009 for the murder of actress Lana Clarkson in his California home in 2003, though he probably should have been convicted for his ridiculous hairstyle long before then.
According to USA Today, Al Pacino declined to meet Spector before filming the movie, stating that the Spector who is currently in prison is different than the Spector Pacino is playing.
The film's second teaser, like the first, features Pacino and Mirren shouting at each other over eerie music as records fall dramatically to the ground and break in slow motion. Phil Spector will debut on HBO on March 24 at 9 p.m.
We'll be looking forward to Pacino's luscious locks until then.
[youtube http://www.youtube.com/watch?v=8PrRNiMCU50]