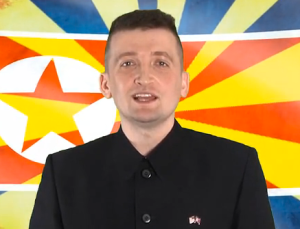 The celebrity ghostwriter Michael Malice is raising money on Kickstarter to publish an autobiography of Kim Jong-il, the North Korean dictator who died of a heart attack in December 2011.
Mr. Malice never met or interviewed Mr. Kim, whom he calls "the ultimate celebrity ghost" in the Kickstarter video. The video is painfully campy, perhaps insultingly so (it feels like an episode of Tim and Eric). He also mentions that he's been to North Korea and brought back "a suitcase full of books written by and about [Mr. Kim], so in addition to all the standard Western books about North Korea, I'm going to adopt all the propaganda into his autobiography."
Mr. Malice — who was turned down by editors when he decided to write this book, hence the Kickstarter campaign — adds that "no one outside North Korea has read these books," which include Kim Jong Il: Lodestar of the 21st Century, Kim Jong Il: The Leader of Youth Movement and A Paean of Great Love: Kim Jong Il and the People. (Perhaps no one has read them, but some show up in Amazon searches.)
"So is this just a big joke?" Mr. Malice asks in the video. "Absolutely Not."
He plans to call his book Dear Reader: The Unauthorized Autobiography of Kim Jong Il. The cover also says, "100% 'True'!" and "As Dictated To Michael Malice." (Notice all the puns?)
We reached out to Mr. Malice, who has co-authored a number of books and is set to release an autobiography of Bret Michaels later this year. In an email, we asked him if he thought he might offend anyone by doing this book, which, as of this writing, has raised $3,881 and has 29 days to go to reach its $30,000 goal.
"I don't care if people are offended," he replied. "I care about the fact that they are a nation in crisis and no one knows what to do–and therefore, no one wants to talk about it. The first solution, war, is crazy. so if people have to get upset, good. it's one of the most upsetting places on earth, and if we don't understand their perspective we can't possibly change it."
We also asked him if he would be writing the book from Mr. Kim's perspective.
"correct, it is an autobiography," he wrote. "'I remember the day when I was born perfectly' is the first line."