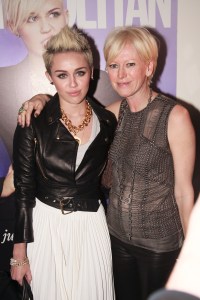 An army of Miley Cyrus faithful—or "Smilers," as they call themselves (adorable, we know)—gathered outside of Acme last Wednesday night, waiting to catch a glimpse of their mohawked idol on the red carpet.
When Ms. Cyrus, wearing a black leather biker jacket over a flowing white dress, arrived at the Soho restaurant to celebrate Cosmopolitan's March issue, even those who were on the list acted the part of fangirl, rushing to grab cellphone pictures of the issue's cover girl as she sprinted through the crowd and into the waiting arms of new editrix Joanna Coles.
(It was a big week all around for Ms. Coles, as she starred in last Friday's episode of CBS's new reality show The Job, on which contestants vied for the "coveted" role of editorial assistant at Cosmo.)
The point of the party, which fell at the tail end of Fashion Week, was to celebrate the first issue that was completely under Ms. Coles's command, and the night was all about reinvention—both for the 20-year-old pop star and the 127-year-old magazine—even if the event felt more like a hyped-up teenybopper dream than a typical magazine relaunch.
Music blared, the dance floors were lit up, cocktails and pickled radishes were passed, and images from Ms. Cyrus's photo shoot were projected next to the lower-level dance floor. Expecting a media party, the few reporters who actually made the guest list—invites were in short supply—looked overwhelmed.
"The party stole a lot of thunder from Fashion Week because it was so different," said Michael Clinton, Hearst's marketing and publishing director.
Ms. Coles, who took over from former editor in chief Kate White last September, came from Marie Claire, the thinking woman's lady mag, and she is widely expected to bring a touch of the serious to Cosmo's breathless coverage of sex positions.
"Joanna has moved very fast," Mr. Clinton told Off the Record, adding that the publication's April issue will be another "blockbuster" and will feature a 40-page magazine-within-a-magazine guest edited by Facebook's Sheryl Sandberg. According to executive editor Joyce Chang, it will be Cosmo's first-ever career supplement.
"I would ask you to re-engage with the magazine. Over the next year, I'll be making changes," Ms. Coles said at a luncheon she hosted back in November. "I'll be hitting all of you up for ideas, your advice, your tips for younger readers."
So what better venue for the artist formerly known as Hannah Montana to showcase her new, all-grown-up persona?
"She's a career woman at the top of her game," Ms. Chang told OTR. "She's fun and fearless."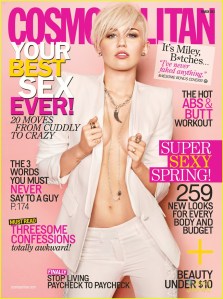 Ms. Cyrus poses defiantly on the cover, wearing seemingly nothing but long and slightly punkish jewelry beneath a white suit. One coverline proclaims, "It's Miley, B*tches … I've never faked anything." Inside, special bonus covers speak to the evolving image of the actress, who rose to fame on the Disney Channel. One alternate cover shows Ms. Cyrus, wearing a black suit-dress (also with nothing underneath) and a snarling expression, with the tagline: "I'm not a girlie girl." The other shows the former child star playfully bent over, lifting up a gray silk skirt, obviously wearing a bra underneath (her white blouse is see-through) and the pull quote: "I never played the Disney game of smiling and being a princess."
While we don't know whether any of the women who were in attendance at Ms. Coles's luncheon last fall took the bait, it's clear from the latest issue, not to mention the choice of cover girl, that the magazine is skewing young.
Naturally, the latest issue covers sex—it's still Cosmo, after all—but the corresponding coverline testifies to a softer side of the bedroom story: "Your Best Sex Ever! 20 Moves From Cuddly to Crazy." And the moves definitely tend more toward the cuddly.
Other features include "Threesome Confessions: totally awkward!" and "The 3 Words You Must Never Say to a Guy." (Spoiler: they're "I look fat.") There are wardrobes for every budget, but the clothes are generally geared toward the medium to upper end of a Smiler's allowance rather than the budget of a 20-something assistant with a credit card. And even though Ms. Cyrus isn't wearing a bra on the cover—which is perhaps the raciest thing about the issue—the magazine looks like something that Miley's fans wouldn't have to be embarrassed to read in front of their parents at the breakfast table.
Which, from a marketing standpoint, is probably a good thing, since these Smilers appear to be awfully suggestible.
When the March issue hit newsstands, Ms. Cyrus tweeted at her 11 million followers to take over the newsstands by repositioning Cosmo so that it covered all other titles: "Lets play a game! All my fans go and put my @Cosmopolitan in front of all the magazines at the store!!!!!! Send me pics haha!"
The guerilla marketing tactic, which looks like a stunt masterminded by Adbusters, worked with a decidedly more commercial audience. The enterprising Smilers even created a hashtag, #BuyMileysCosmo, and tweeted and 'grammed their photos of newsstands across the country plastered with the pink Cosmo cover.
Like companies everywhere, Cosmo has been trying to use the power of social media to promote its content. But this marketing ploy was the work of an even more savvy social media presence: Ms. Cyrus herself.
"We couldn't have planned it," said Mr. Clinton, who thanked Ms. Cyrus for the publicity when he saw her at the party. "I told her we have to learn from it."