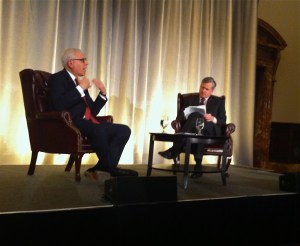 Sculptor Joel Shapiro was one of the first to arrive at the New York Public Library's Stephen A. Schwartzman Building on Wednesday night, and the large, stately room looked a little empty as he and a few other punctual guests mingled before the event—a conversation between billionaire philanthropist David Rubenstein and Pulitzer Prize-winning historian Jon Meacham. They weren't alone for long. Dozens of fashionably late furs were soon cast off at the coat check and in poured a river of well-heeled guests, ready to celebrate Mr. Rubenstein's receipt of the fifth annual Leonore and Walter Annenberg award for Diplomacy through the Arts from the Foundation for Art & Preservation in Embassies.
"What does he do? Business? Finance?" asked Mr. Shapiro, whose second FAPE commission is currently being installed in front of the new U.S. Consulate in Guangzhou, China. (Before the event he showed The Observer a photo of pieces of the striking blue sculpture on his iPhone, which he'd dropped earlier that day and salvaged by sticking a wide strip of packing tape on its back.) Mr. Rubenstein is the co-founder and co-C.E.O. of the private equity firm the Carlyle Group and a collector of historic documents. He has purchased original copies of the Declaration of Independence, the Magna Carta and the Emancipation Proclamation, among other history-altering pieces of paper, all of which he has donated or pledged to American institutions for public exhibition. Mr. Rubenstein recently became the biggest donor in the history of the John F. Kennedy Center for the Performing Arts in Washington, D.C., pledging $50 million to help it expand.
FAPE's several dozen board members, trustees and officers chatted warmly with one another and the handsome room hummed with fond familiarity. Via loudspeaker, a disembodied voice asked the crowd to be seated, but it took a while for the guests to tear themselves away from one another—not to mention the wine and finger food. (Pigs in blankets are the "most popular hors d'oeurves in Manhattan high society," a waiter informed us.)
The audience eventually found their seats and soon the speakers launched into what must be one of the liveliest FAPE events in recent memory, replete with sordid historical anecdotes (the age of consent in Jefferson's time was 12), an analogy involving incompetent pandas attempting to procreate, as well as hard-hitting economic commentary.
At their most serious, the speakers examined the country's precarious economic situation, educational inequality, partisan conflict, illiteracy in the U.S. and inner-city high school drop-out rates, among other distressing subjects. Thankfully, Mr. Rubenstein has the ability to deliver the most troubling data and yet somehow avoid sounding apocalyptic, and he drew hearty laughs as he discussed Americans' ignorance of their country's history (in a recent survey, 30 percent of citizens asked to name the first secretary of the treasury said Larry Summers) and imminent financial disasters.
Mr. Meacham proved to be a comic match for Mr. Rubenstein. At one point the two speakers talked over each other in a good-natured, teasing exchange that elicited roaring laughter from the crowd.
"There's no evidence that having money makes you happy," said Mr. Rubenstein earnestly. "Most of the people I know who are extremely wealthy are not extremely happy."
"I don't believe that," interjected Mr. Meacham. "As the poorest person on the stage…with a little Zoloft and a couple of billion…" he said, pointedly trailing off.
"Most of the people in the Forbes 400 are tortured," continued Mr. Rubenstein seriously. (The Carlyle Group is the second-biggest manager of alternative assets in the world, overseeing $157 billion in assets. Mr. Rubenstein is number 250 on the Forbes 400 list.)
Mr. Meacham looked incredulous.
Money was a hot topic. Mr. Rubenstein highlighted the U.S.'s annual debt payment, predicting that, because interest rates are being kept artificially low, they will eventually rise and cause payments to soar from $250 billion a year to between $750 billion and $1 trillion a year. "Chronic problems," he said, "get kicked down the road," and it takes a crisis for politicians to make necessary changes. "I'm afraid that we're in this neurotic situation in Washington, and unless someone is scared to death, nothing is going to change." He finished his financial forecast with a quotation from economist Herb Stein: "'If something can't keep going on forever, eventually it won't.'" The audience laughed hysterically.
Mr. Rubenstein was charmingly self-deprecatory throughout. When Mr. Meacham asked about his time as a domestic policy adviser to Jimmy Carter, Mr. Rubenstein replied, "You're very kind to mention that I worked in the White House, but not point out that I got inflation to 19 percent, which is very hard to do."
Toward the end of the conversation, Mr. Rubenstein turned the tables on Mr. Meacham and started asking the questions. "People thought I was going to interview you, and that's why I think they all came," he said, before inquiring whether Mr. Meacham's opinion of the third president changed after writing his most recent book, Thomas Jefferson: The Art of Power (2012), noting Jefferson's attempted and successful liaisons with slaves, servants, prostitutes and his friends' wives. Mr. Meacham had some self-effacing zingers of his own. When discussing Jefferson's affair with Sally Hemings, his wife's enslaved half-sister, Mr. Meacham said, "I'm a Southerner, so this is all kind of familiar to me."
After interviewing Mr. Meacham, Mr. Rubenstein did not cede the reins of the conversation, saying that he wanted to end with two stories, "one relating to sex, which obviously people like."
The first was an account of how he began collecting documents, and the story of his first purchase proved to be one of his most humorous anecdotes. In 2007, Mr. Rubenstein happened to view a copy of the Magna Carta at Sotheby's and chat with a curator, who told him it would probably be bought by a foreign bidder. The idea of this document, which had so inspired the founding fathers, leaving the U.S. prompted Mr. Rubenstein to return to Sotheby's the night of the auction—without telling anyone. ("If I told my wife, 'I'm going to buy the Magna Carta,' she'd say 'that's a little presumptuous.' If I told my children, they'd say, 'well, how much less money does that mean for us?'") He was locked in a little side room, where he eventually bid a winning $19 million ($21.3 million with fees and commissions). After the gavel fell, the head of Sotheby's entered the room and asked him, "'Who are you? You can afford this, right?'" Mr. Rubenstein has since received calls from owners of other copies of the Magna Carta, asking whether he would like to buy theirs too. (Apparently one's enough. He said he has a form letter made out to decline such offers.)
Mr. Rubenstein ended the conversation with a creative analogy for Congress: its members are like mating pandas. Mr. Rubenstein, who gave a staggeringly comprehensive rundown of the cuddly animals' sexual habits, explained that they only mate during a four-hour window on one day of the year. "Humans don't do this," he said. ("Thank God!" exclaimed one board member in the front row.) This infrequency makes pandas inexperienced, and therefore like members of Congress, who "know what they're supposed to do, but don't really know how to do it."
"Who knew the president of the Carlyle Group was such a great comedian?" exclaimed Bob Colacello, after the talk finished.
In addition to his massive multimillion-dollar gifts to Lincoln Center, the National Archives, the Washington Monument and the Smithsonian, Mr. Rubenstein has made a $4.5 million donation to the National Zoo's Panda program. Mr. Rubenstein's gift will aid the zoo in helping its giant pandas Mei Xiang and Tian Tian to mate. No word on whether he has a comparable plan in the works for Congress.