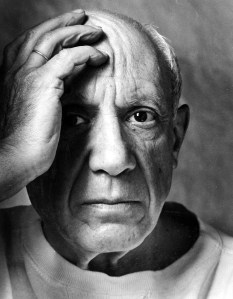 What a year for Howard Greenberg Gallery! In addition to its upcoming debut at Art Basel in June, the Midtown gallery will now exclusively represent the estates of photographers Berenice Abbott and Arnold Newman.
The two estates have been entwined over the years, if not represented by a single gallery. Commerce Graphics handled Abbott's estate, while KG Fine Arts—a partnership between Commerce Graphics and Howard Greenberg Gallery—previously managed that of Newman. Ronald Kurtz, founder of Commerce Graphics, is retiring and closing the Uptown business this month.
Abbott, who is best known for her photographs of New York's architecture and people beginning in the 1930s, has kindred spirits in Howard Greenberg's roster, such as Bruce Davidson, Dorothea Lange, Walker Evans and Paul Strand. Dilapidated shanty houses wedged into alleys, ragged children and itinerant peddlers fill her photographs in addition to monumental bridges, elevated train tracks and skyscrapers.Standing in stark contrast to pictorialist contemporaries like Alfred Stieglitz and Edward Steichen, Abbott did not believe in manipulating images (compare her stark photograph of the Flatiron Building to Steichen's misty picture of the same subject.) Before she moved to New York, Abbott was an acclaimed portrait photographer in Paris, shooting the likes of Jean Cocteau and James Joyce.
Celebrity portraiture is Newman's legacy. Specializing in environmental portraiture, in which subjects are photographed in surroundings that reflect their interests, Newman took iconic pictures of actresses like Marilyn Monroe and Marlene Dietrich, politicians like John F. Kennedy and artists like Pablo Picasso, Georgia O'Keeffe, Max Ernst, Marc Chagall, Frank Stella and perhaps most famously, Igor Stravinsky, whose grand piano looms over him like an enormous black jaw. Newman's subjects were not always idols, however. His most troubling photograph is perhaps that of convicted Nazi war criminal Alfried Krupp, whom he shot in one of the factories Krupp ran with slave labor.
Howard Greenberg Gallery has exhibited work by both Abbott and Newman at fairs in the past such as Art Basel Miami Beach, and may show these artists in their booth at Basel in June. Abbott's photography will be the subject of a forthcoming book from Steidl due out in the fall of 2013.