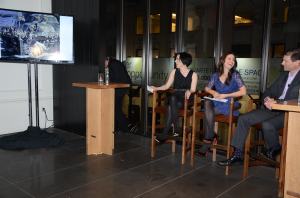 It was a raucous scene at the Andaz Hotel one rainy evening last week, with bartenders noisily shaking cocktails and patrons chattering away, but the pixie-ish painter Hilary Harkness, for whose talk everyone had ostensibly come there, was unflappable.
Her 2003 painting Crossing the Equator popped up on the screen beside her. Scores of tiny, cartoonish-looking young sailors—mostly women—in skintight, skimpy outfits are engaging in all manner of sexual and violent acts on the deck of a battleship. Stephanie Roach, director of Chelsea's Flag Art Foundation, which sponsored the event (disclosure: The Observer was a media partner) asked Ms. Harkness what was going on in the piece.
The ship is the HMS Royal Oak, a British vessel that was sunk off the coast of Scotland in 1939 by German torpedoes. "The 18-year-old boys, who were so happy to enlist, went straight to the bottom of the North Sea," Ms. Harkness said. "I've dredged them up from the bottom of the ocean and sent them on a pleasure cruise across the equator." This earned applause from the crowd.
"When you cross the equator," she continued, "there's hazing going on. If you haven't crossed it before, basically, you can be subjected to gang rape by your elders." The room went dead. "Ah," she marveled. "It got really quiet back there when I said 'gang rape.''"
The lion's share of Ms. Harkness's paintings, updates on Bosch and Breugel, regularly contain such outré, morally dubious scenarios. "They're fantasies about fantasies," she said.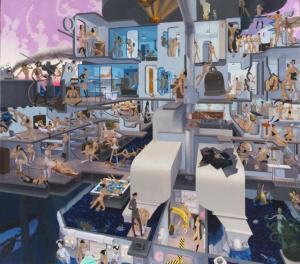 Red Sky in the Morning (2011) appeared on the screen. It shows a Japanese ship, the Yamato, heading back to Okinawa on a suicide mission near the end of World War II. The ship's exterior is cut away to reveal all sorts of shenanigans taking place inside. "Like an ant farm," Ms. Harkness suggested.
"There are all sorts of sexual acts going on," Flag Foundation founder Glenn Fuhrman observed, peering at the tiny female figures. And then he tossed Ms. Harkness the pitch for the evening's zinger. "Are you painting from imagination?"
"I would say, memory," Ms. Harkness said with a smile. More applause. "The officers knew that it was the last night of their lives," she went on. "This is my imagination of what might happen at the end of their world."
On Feb. 8, Flag's exhibition space in Chelsea will open a show of Ms. Harkness's work that includes similarly epic scenes set in, of all places, Christie's auction house. "I really like the idea of a painting being up for auction," Ms. Harkness said. "When it's on the stand, anyone can buy it. Anyone has access. When you go into a gallery, you might have to get on a wait list." (There was no visible reaction to this from Ron Warren, the director of Mary Boone Gallery, where Ms. Harkness shows.) "In the Christie's paintings," she said, "there are three different armies—a Muslim army, the Americans and the Japanese army. They're laying down their weapons for the sake of commerce, and basically they're bidding on genetic material for the most important thing in the world—which are babies."
Tonight was all about the battleships, though. Another piece appeared onscreen, Fully Committed: Mighty Mo,' April 11, 1945 (2008), a cutaway view of the interior of a battleship that has just survived a kamikaze attack. Everyone is partying and having sex here too, because, Ms. Harkness explained, they are "pretty much scared shitless."
Despite her obsession with combat, she is pretty frightened of it. "I think I would have a heart attack just getting on a battleship and going off to war," she said. "This was me imagining: what the hell would I do?" She looked at the painting. "There's someone hiding in a bin of laundry, which I relate to."