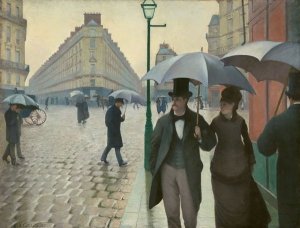 Much as it sounds like the drag pseudonym of an America's Next Top Model judge, "Miss Satin" was the pen name used by experimental poet Stéphane Mallarmé when writing about women's clothing. Fancy hats were a favorite topic: "I could go on for hours," he giddily opined in the pages of The Latest Fashion, the fashion magazine he founded in 1874. Shy young Paul Cézanne painted models copied from the pages of his sister's fashion magazines. Poet and art critic Charles Baudelaire saw nothing more modern than the ephemeral beauty of a stylish shoe or chic accessory.
A new show at the Met, curated by the museum's Susan Alyson Stein, makes the case that for Impressionist painters and their critics, fashion served as both abiding muse and central obsession. From Manet to Morisot to Monet, this theory is supported by the pairing of paintings of voluminous frocks or tiny still lifes of satin slippers with the period dresses and accessories themselves.
The show opens with a group of plein-air paintings. Actual costumes of the 1860s, on display among the paintings, show the sculptural quality of fashionable clothing of the time—the volume of a bustle, the tactility of tassel at collar and shoulder, and how astonishingly vivid silk gauze is when it catches the light. Édouard Manet's gowns depicted in paint like melted frosting and Claude Monet's exquisitely rendered pale day dresses compete for attention. With the clothed mannequins next to the paintings, it looks as though the women in the cotton pique day dresses from Monet's depictions of garden lunches have stepped down from their canvases.
Paintings like Monet's Camille (1866), of his teenage girlfriend in a vivid green and black striped silk gauze dress, announce the arrival of a new technology: aniline dyes, which created a revolution in the palettes of both dauber and dandy. Year by year, season by season, fashion magazine engravings attest to the look of the moment: its cuts, colors and silhouettes, and the attitudes and habits of the pretty, sexy, modern women it conjured on afternoon visits, walking in the street, shopping for hats and attending balls. The paintings paired with them aren't portraits per se, but stylish evocations of fashionable Parisiennes—women's backs are turned to show off yards of silk and bows, and gowns in the latest styles trump faces or family names as social signifiers.
Ms. Stein, curator of the show in New York, has created dialogues not just between paintings and dresses, but between painters and subjects. Paintings of women by Berthe Morisot, one of the few female Impressionist painters, accompany Manet's portrait of Morisot herself (she was his sister-in-law); these hang next to Manet's famous 1862 portrait of Baudelaire's mistress (a rare picture on loan from Budapest)—very different women dressed in similar white gowns that join them together in a sorority of style. In the next room, black dresses presage the chic modernity of Coco Chanel.
Then come tiny, fetishistic still lifes of the sorts of things you'd find in the new department stores as described by the great realist novelist Émile Zola: elbow-length opera gloves, lace lingerie, satin umbrellas and perfectly turned-in pink and white slippers, fragments of the "ladies' paradise" of which Zola wrote. A lace and mother-of-pearl fan echoes the extravagant ostrich plume fan of the Countess of Castiglione, shown in a photograph of the fashionable aristocrat taken by her collaborator Pierre-Louis Pierson, a haunting remnant of a luxe queen. Henri Fantin-Latour's portrait of Manet shows how the gleam of a well-brushed hat and the suppleness of a set of suede gloves made the man, while Degas and Manet compete for the definitive voyeuristic take on women's hat shopping.
The show's final gallery zooms out to the modern environments in which these dresses were on display, with paintings of balls, parks, the opera and the city street where chic women paraded themselves. Seurat's women in profile in public parks echo fashion plates with their bizarre bustled silhouettes. There are works by familiar names like Mary Cassatt and Auguste Renoir.  Look for Mary Cassatt's Woman with a Pearl Necklace In the Lodge, 1879, and Gustave Caillebotte's Paris Street; Rainy Day, 1877—the polka dots on the black lace veil a woman looks through echo the rain falling on the scene around her. Famous works are paired with a few less familiar painters that really stand out: James Tissot's paintings render the fringy cut and eye-catching color of a woman's outfit with sartorial acumen.
More than superficially pretty and appealing, this exhibition gets to the heart of what drove industry, literature and painting in the last decades of the 19th century: a relentless quest for newness that went beyond novelty to embody the spirit of the modern age. While New Yorkers might find it laughable to imagine our city's curmudgeonly and often unseemly male intellectuals engaging with women's fashion (imagine Philip Roth on the latest in women's ankle boots or John Jeremiah Sullivan extolling the virtues of the St-Tropez surfer ingénue of the Marant spring 2013 collection), Parisian modernists thought otherwise: to be out of fashion was to be dead. (Through May 27)