Ladies, gird your loins—indie film star and would-be prostitute Vincent Gallo is moving to New York. (In case you're curious, Mr. Gallo offers his services for $50,000 a night, $1 million for sperm and another half million if you want "natural insemination," according to his website.)
Mr. Gallo, perhaps best known for being fellated by Chloë Sevigny in his 2003 art house film The Brown Bunny, just picked up a one-bedroom condo at 100 Eleventh Avenue, Jean Nouvel's bespeckled blue West Chelsea erection. He snagged the apartment from Diane Zuckerman and Michael Hite, who were apparently desperate to sell, because they parted with the fifth-floor unit for $2 million—a hefty discount from the $2.4 million that they paid the developer for the unit back in 2010, when the city's real estate market was still reeling from the recession.
The former owners did, however, make out a bit better renting the unit before the eventual sale—they got $10,000 a month for the furnished apartment, $200 more than their asking rent, according to Stephen Gutman at Corcoran Sunshine, who along with Elyse Gutman and Judith Harrison represented the sellers.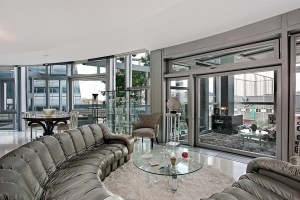 Mr. Gallo will apparently be moving from Los Angeles, where the director/model/actor/artists/dead-ringer for Rasputin just offloaded one loft and is trying to get rid of another. LA's Arts District Business Improvement District should be breathing a sigh of relief at Mr. Gallo's departure—he once sued the BID for providing "no benefit" despite its thousands of dollars in annual dues. Friends of the High Line, you've been warned!
The two sales in the City of Angels should net Mr. Gallo nearly $4 million, more than enough to cover the purchase price on his new West Chelsea pad. Which is a good thing, because aside from his sex work, we're having trouble figuring out where Mr. Gallo gets his money.