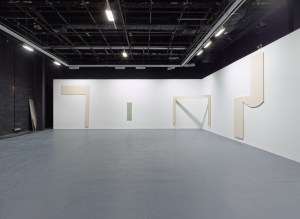 Chelsea stalwart 303 Gallery now represents the up-and-coming artist Jacob Kassay, gallery owner Lisa Spellman has told The Observer. The gallery will also move from its current spot on West 21st Street to a new building under the High Line on 24th Street, as Gallerist previously reported, in mid-April.
Mr. Kassay, 28, first made headlines in 2010 when one of his silver monochrome paintings sold for $86,500 at the auction house then known as Philips de Pury & Co., over an estimate of $6,000 to $8,000. The following spring, another work, at the same house, went for $290,500, over an estimate of $60,000 to $80,000. Where Mr. Kassay will go has been a subject of much art world gossip since he left Eleven Rivington gallery over the summer.
"We are so excited about Jacob's work," Ms. Spellman wrote in an email. "I have been a fan for so long."
The gallery will host its first show of Mr. Kassay's work this fall, in the new 24th Street space.
In 2015, the gallery will move once again, Ms. Spellman wrote, and anchor a new high-rise by developer Scott Resnick at 11th Avenue and 21st Street. 303 will occupy the first and second floor of that space. Ms. Spellman said she isn't sure that the gallery will also stay on 24th in 2015, but added that "we will probably take on an additional space at some point."
Mr. Kassay had a show at the Institute of Contemporary Arts in London in 2012 and currently has a show up at the Kitchen. He's included in a group show, with Lawrence Weiner and Olvier Mosset, that opens at Andrea Rosen gallery this Friday.
Update, 9:30 p.m.: Katya Kazakina at Bloomberg reports that Ms. Spellman sold the gallery's current home to Mr. Resnick for $8 million.