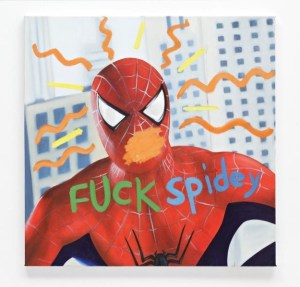 Remember how James Franco just debuted his latest art exhibit, "Gay Town" in Berlin last week? You know. The one with that angry picture of Spider-Man. We did a whole post on it, go read it.
Apparently we weren't the only ones to take notice of Franco's latest "art" project, as evidenced by Peter Aspden's overly adverb-laced interview with the actor in this weekend's Financial Times. Franco says things "chummily," and "out-zonks" Aspden "instantly." There's a whole paragraph devoted to his smile. But even the puffiest puff piece can't save Franco from himself, like when pressed to explain his insane Spider-Man picture:
Well first of all, let Franco just say how much he loves Sam Raimi….
"It's not anger at any person or situation. Sam Raimi directed me in Spider-Man, and I have just done Oz [The Great and Powerful] with him. Those paintings are about poking holes in certain façades. I know I am part of this machinery that is so huge, and I'm not complaining, but we spend hundreds of millions of dollars on these movies so that they are beautiful, they transport people, they are an amazing art form.
BUT!
"But they do create these weird polished surfaces that are very difficult to get underneath. And I get sucked into all that. So these pictures are a way of poking through that." I say that I found them funny. "Well, I love to bring humour into my work," he says. "Because comedy is not a huge part of the art world. And big-business film takes itself very seriously."
Only James Franco could believe, with all his might, that he is fighting the good fight to bring comedy to the humorless art and "big-business film" worlds. Though this blowjob did serve one purpose: we finally discover how many degrees Franco has yet to finish!
I ask if he is still reading for any degrees. "The last thing I have to finish is my PhD at Yale. That takes a long time." What is its theme? "Something about how literature and film intersect, and what happens when one is translated into the other."
Also the quiche was delicious.