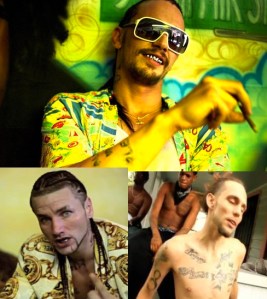 In Spring Breakers, James Franco has made the role of a lifetime: Alien, a gangsta white-boy townie from Florida who seduces (and in turn gets seduced by) the trio of bubble-gum co-eds turned criminals played by Vanessa Hudgens, Selena Gomez, Ashley Benson, and director Harmony Korine's wife, Rachel Korine. He's a creepy, status-obsessed wannabe, but Franco managed to take inspiration from outside of himself anyway.
Since the beginning, rapper Riff Raff has been promoting the film, saying the Franco character was based on him. And the similarities are evident: the gold grill, the dreadlocks, the fact that one of his albums was called The Golden Alien and he and Korine appeared on a Sneeze magazine's cover together.
All was kosher. That is, until James Franco got upset over the idea that his performance could have been done by the From Gs to Gents contestant himself.

It all started with a baiting question from GQ's Matthew Sebra:
GQ Eye: With regards to your character in the movie, the rapper Riff Raff has said the role you are playing was originally meant for him. Is that true?
James Franco: None of that's true. I'll tell you why he could have never been offered the role. Harmony (Korine, the movie's writer and director) and I were talking about doing a movie together before Spring Breakers was even conceived. I had been a fan of his work and he wanted to do something and I said, "I'll do anything with you." We started discussing ideas and one day he sent me a treatment, which he said he's never done before, just to run it by me. And it was this idea of these girls going on spring break and then they meet up with this guy who leads them into the dark side. And then he wrote the script. So there's no chance Riff Raff could have been offered the role. Of course Harmony and I looked at some of Riff Raff's videos as inspiration, but he was one of a number of people we looked at. I would say the biggest influence on the role was this local Florida rapper named Dangerous. (editor's note: actually, Dangeruss). He's fairly unknown, but he was down there in the place, living the life, and he became the biggest model for me and he's in the movie.
He also told MTV a similar story, noting how Dangerous is actually rapping on stage with him during a scene in the film.
Let's compare and contrast, shall we?
Riff Raff:
[youtube http://www.youtube.com/watch?v=NlydTf5bJdo&w=560&h=315]
Dangeruss:
[youtube http://www.youtube.com/watch?v=tlpcXYkJa9I&w=560&h=315]
Franco in Spring Breakers:
[youtube http://www.youtube.com/watch?v=oaeVPdsVkyA&w=560&h=315]
Hmm…it really is too close to call!
Complex seized on the story and interviewed the "I knew him before he was cool" Dangeruss about inspiring Franco, leading Riff Raff to wig out over email to the publication (and MTV), calling Franco a LIAR:


To put salt in the wound, Dangeruss gave an interview to the Tampa Bay Times today in which he talked about Franco's "real" friendship:
He actually flew me out to L.A. after we did the movie just on the personal strength that he felt like he liked me, and that I had a talent for music. And that was a separate project from the movie! So I love James. I just talked to him the other day. He says he got other stuff in store for me, so we'll see what happens, where that goes.
Well, good luck with that, Dangeruss. Let us know when that collaborative project comes out. Hope your name is still on the finished project, and what it was like to work with Marina Abramović and/or bondage slaves.
Update: It does look like Franco used Dangeruss for a second of footage in a weird music video he made back in July for the short film he did for 7 For All Mankind jeans:
[youtube http://www.youtube.com/watch?v=GCJY2oKZmmA&w=560&h=315]