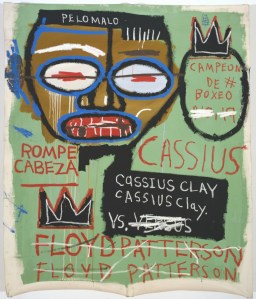 A quarter-century after he died of a drug overdose at the age of 27 in downtown Manhattan, Jean-Michel Basquiat needs no introduction. The fame that he pursued relentlessly and recklessly throughout his brief career seems secure, buoyed by museum retrospectives, films, books, sympathetic critics and a bounty of supremely wealthy collectors, who now buy major works by him for $20 million or more. For anyone who needed proof that this last part isn't just the result of market hype, there is Gagosian Gallery's current exhibition of more than 50 works.
The majority of the pieces on view come from 1981 through '83, when the Haitian-American, Brooklyn-born graffiti artist made his improbable leap into the upper echelon of the art world. The trademark Basquiat work of the time has a central figure—a fisherman, a warrior, a boxer—hovering amid gnomic phrases, some of them crossed out, in front of high-pitched fields of color that compare favorably with Abstract-Expressionist masters Hans Hofmann and Clyfford Still.
Though Basquiat fit perfectly alongside then-ascendant Neo-Expressionists like Julian Schnabel, who aimed to return figurative painting to the realm of vanguard art, a bit of distance shows that he was regularly outclassing them. One of the best works here, La Hara (1981), offers an unhinged-looking cop with blood-red eyes surrounded by an array of marks—smudges, scratches, a thermos and what may be a fence. No wonder he pissed people off.
Many of those early works are so colorful, so humming with anxious, energetic lines that they threaten to produce bodily shocks. Don't forget, though, that Basquiat could also be uproariously funny (1982's Obnoxious Liberals has a panicked figure wearing a shirt that reads "Not for sale") and subtle, perhaps even romantic (1985's Now's the Time, an eight-foot-wide circular painting on wood that resembles the eponymous Charlie Parker record, its title written in little white letters at its center).
For me, the real joys come in '83 and '84, when Basquiat was cramming more text and bits of photocopied anatomical drawings into his paintings. The frenetic energy has dissipated, but the resulting tableaux, laden with an increasing number of competing figures, elicit intellectual rather than emotional responses.
The prevailing narrative, that Basquiat's work declined as he reveled in fame and drugs, remains hard to dispute, but the show offers a few startling exceptions, like Riding with Death (1988), one of his last paintings. A nude man is astride a skeletal horse; he seems to be slipping into the bronze monochrome background, disappearing into the picture. (Through April 6)