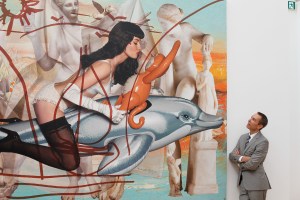 Earlier we posted about a vacancy in Jeff Koons's 80-person studio (he needed a wood carver), but it seems that the job post was actually part of a Koons hiring glut.
The New York Foundation for the Arts job board now features four jobs in the Koons studio, the latest call for "Sculpture Painting – Masker," "Sculptor – Stone Carver" and "Sculptor – Moldmaker & Plaster."
It's possible that he's hiring ahead of his May show at David Zwirner gallery, though what he's making is anyone's guess. An email to hulkfriends@gmail.com, listed on one of the NYFA job posts, was not returned.