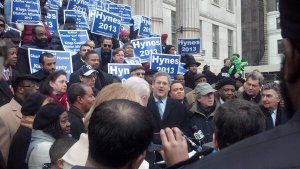 Kings County District Attorney Hynes has been battered by negative headlines in recent months, but a large host of elected officials and a packed crowd still stood shoulder-to-shoulder with him today for the formal announcement of his re-election campaign on the steps of Brooklyn Borough Hall.
"Joe, this is more than a political rally, this is a love-fest. It's really a love-fest between the residents of Brooklyn and you!" Borough President Marty Markowitz declared. "I hereby endorse this year of course, 2013, and 2017! And 2021!"
Whether or not Mr. Hynes makes it to 2021's election cycle remains to be seen, of course, but he certainly has a more difficult road ahead of him than he did in his last election where he ran unopposed. Mr. Hynes, currently serving his sixth term in office, faces two challengers this time around, Ken Thompson and Abe George, who both reported raising solid amounts of campaign funds in the latest filing.
Mr. Thompson, an African-American attorney who's been accumulating cash at the quickest clip, undoubtedly hopes to do well, particularly among Brooklyn's sizable black electorate. But Mr. Hynes' event today was clearly meant to be a show of force in that regard with a multiracial cast of elected officials, clergy and supporters heaping praise upon the incumbent. Additionally, late last night, Mr. Hynes' campaign rolled out the endorsement of the city's only African-American mayor.
Jonathan Yedin, a consultant at the Advance Group working on the Hynes campaign, directly pointed to Mr. Hynes' "diverse and expansive coalition" as evidence of his strength.
"D.A. Hynes' career has been defined by his commitment to improving the quality of life of all Brooklynites," he told Politicker. "As shown by the overwhelming display at today's announcement, D.A. Hynes' distinguished record of service to communities across Brooklyn has afforded him a diverse and expansive coalition of support for his many innovations to the way law enforcement is handled in Brooklyn."
For his part, Mr. Hynes also pointed to the crowd's diversity while reading a speech laden with statistics touting crime reduction and a host of initiatives he's launched during his tenure. He finished by citing a desire to accomplish more as the raison d'être for his campaign.
"I was privileged to become district attorney of this county in 1990. We were in the midst of a crack cocaine-driven crime wave," he said. "There was 765 murders in 1990. There was 792 murders in 1991. One out of every fifteen Brooklynites was the victim of a serious crime. Not only was Brooklyn prepared to be the murder capital of the world, we were beginning to feel we were the crime capital of the world. Last year, we recorded 149 murders, the lowest number since 1960. … But we're not done, not by a long-shot. That's why I come here today to formally announce my candidacy for reelection."