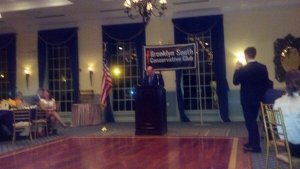 Last night in the Dyker Heights neighborhood of Brooklyn, Republican officials, operatives and activists gathered to toast influential Conservative Party Chairman Mike Long, including multiple mayoral candidates and–jokingly–at least one Gracie Mansion contender whose campaign has yet to be mentioned.
"I'm happy to be here," Mr. Long, the honoree of the evening, declared as he name-checked various officials in the room. "Joe Lhota, they're saying that there's an interest he may be running for mayor. … Adolfo Carrión, I hear the same rumor about you, that you may be thinking about running for mayor. There's a lot of people in the room running for mayor and I haven't even made my announcement yet!"
A third Republican mayoral candidate, George McDonald, would later arrive and, like Mr. Carrión, address the crowd. But the prime speaking slot to give his complete pitch went to Mr. Lhota–whom Mr. Long has praised in the past. And, somewhat amusingly, Mr. Lhota quoted perennial candidate Jimmy McMillan, the radical "The Rent Is Too Damn High!" activist, in making his case.
"We need to reform our government. We need to streamline our government. We need to make it more transparent. We need to make it less intrusive. We need to make it more efficient," Mr. Lhota said. "Remember in the last governor's race, there was a guy who was running, Jimmy McMillan was his name? And he kept saying, 'The rent is too damn high!' I'm a mayoral candidate this year, we'll be saying over and over again, 'Our government is too damn expensive!"
The newly-minted Brooklyn South Conservative Club's crowd was a friendly audience for the declaration–official swag at every table included a 17-ounce cup dedicated to "Nanny Bloomberg," for example–and cheered at the line.
Of course, the Conservative Party is not where they'd like to be in New York State right now. The Conservative-backed candidate for U.S. Senate last year, Wendy Long, got destroyed in the ballot booth by incumbent Kirsten Gillibrand while Republicans in the State Senate were forced to form a bipartisan coalition to remain in power–enabling Governor Andrew Cuomo to pass new gun control legislation over Mr. Long's strong objections. For his part, Mr. Long addressed his party's condition to conclude his speech.
"A word about mountains," Mr. Long said. "One would say that to the question, 'Maybe the Conservative movement is in a funk. Maybe we took a little setback. Maybe we're not doing as well as we'd like to do.' Let me tell you this here. Politics is mountains and valleys. Right now, we hit the valley. … Folks, if you think we're in trouble. We are. If you think of despair, don't. Do not despair, don't lose heart. The phoenix will rise again."