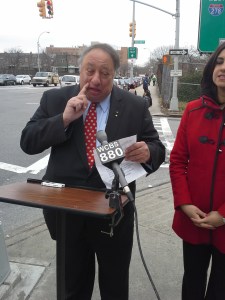 Freewheeling billionaire John Catsimatidis was told again and again it was time to for him to leave as he stood at the foot of the Verrazano Bridge in Brooklyn this afternoon.
"No, no, no…" his handlers pleaded as Mr. Catsimatidis, a Republican candidate for mayor, prepared to tell a gaggle of reporters about another press conference of his scheduled for next week.
"Now, there's another press conference coming, guess what we did in Brooklyn that nobody knows about?" Mr. Castimatidis asked as his team strained to keep  their plans under wraps.
But Mr. Catsimatidis, arriving in Bay Ridge, Brooklyn to originally explain his plan to call upon the MTA to freeze additional toll and fare increases, was in his element, rambling extemporaneously about whatever subjects the assembled reporters cared to discuss. Republican Assemblywoman Nicole Malliotakis smiled at his side, watching as the man who had never been an elected official said and did exactly what he wanted to do. Politicker asked Mr. Catsimatidis about Mayor Michael Bloomberg's controversial plan to ban high-sugar drinks in cups or containers bigger than 16 ounces. Business leaders have attacked the proposal, which is set to go into effect March 12, but Catsimatidis, a supermarket tycoon, wasn't willing to join their ranks.
"I wouldn't want my kids to drink 32 ounce sodas,"  said Mr. Catsimatidis, explaining that he would also want more  health education programs put in public schools. "When I went to the movies a couple of weeks ago and I looked at the 32 oz soda and it said 1,100 calories, wow, never in a million years would I buy that one!"
Ms. Malliotakis rushed to agree with Mr. Catsimatidis about how it was good to make calorie counts available, but pivoted to take up the New York Post's talking point that the ban would also "tell me that I can't have a birthday party for my kids at Chuck E. Cheese with a pitcher of soda."
Mr. Catsimatidis also criticized the MTA's planned fare and toll hikes in March but, like Ms. Malliotakis, did not lay the blame on his Republican rival in the mayor's race, Joe Lhota. The MTA chairman when the tolls hikes were approved, Mr. Lhota faces potential backlash from voters on Staten Island who will have to pay even more to cross the Verrazano Bridge.
"I would say, I would have looked at it a lot more closely," said Mr. Catsimatidis  when asked if he also would have hiked fares if he was in Mr. Lhota's shoes. "I think some of the other political people in Staten Island that want to support him have to ask him the same question."
And Mr. Catsimatidis, seemingly unaware that former Bronx Borough President Adolfo Carrion is kicking off his mayoral campaign tomorrow night and looking to run against him in a Republican primary, said Mr. Carrion should instead run for something like public advocate or comptroller.
"I think the Republican Party that I'm running in has to be diverse. We need a Hispanic, we need a black and I'd love to see Adolfo Carrion run on one of those lines or A.R. Bernard who is a very, very decent guy. I've met him and really love the guy," he said.
As for that mysterious Brooklyn press conference?
"Stay tuned to next week. We saved jobs in Brooklyn nobody knows about."