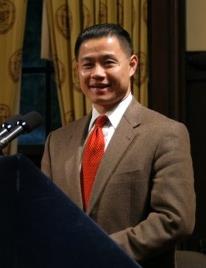 In Mayor Michael Bloomberg's last State of the City speech today, he touted his record of accomplishments. But Comptroller John Liu, a likely candidate for mayor this year, isn't so sure about that. Accordingly, only minutes after Mr. Bloomberg finished speaking, Mr. Liu fired off a statement blasting the mayor.
"Obviously, Mayor Bloomberg can point to some accomplishments after 11 years, especially in improving New Yorkers' health through reductions in smoking," Mr. Liu said. "But his selective retelling of history leaves out some troubling facts: near record unemployment, record numbers of homeless, record income disparity, record stop and frisks, record claims against the NYPD, record numbers of school closures, and a failed education record that has only one in five high school students graduating from college.  How can we be satisfied with that? No one can say that New Yorkers of all walks of life shared equally in the accomplishments he claims as his legacy."
But Mr. Liu wasn't finished there. He concluded by sharply criticizing the "hubris" Mr. Bloomberg displayed by temporarily overturning term limits to secure his third and final term in office.
"Bloomberg's third term was a great mistake," Mr. Liu jabbed. "[A]nd this entire City is paying the price for that act of hubris."
Thus far, Mr. Liu is the only one of the likely mayoral contenders who has released a response to Mr. Bloomberg's speech.