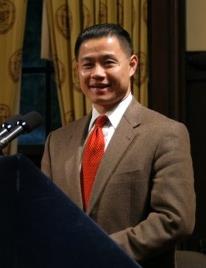 The federal case against Comptroller John Liu's fundraising operation has hit a rather intriguing snag.
Oliver Pan, the donor accused of breaking campaign finance laws on Mr. Liu's behalf, was "involuntarily committed with a mental health condition," according to Judge Richard Sullivan, who's overseeing the case. He did not elaborate on the specifics, outside of saying it's unclear when (or if) he will recover.
Thus, at today's pre-trial hearing, Mr. Sullivan established a date–this Friday, at noon–that medical professionals treating Mr. Pan need to report on his status. The judge further set April 15th as the "backup" date for the trial to begin, should Mr. Pan not promptly regain his health.
At a previous hearing, Mr. Pan's lawyers said he had been severely traumatized by the case, although without giving many additional details as to Mr. Pan's condition. It's impossible to tell if his current situation is related to stress from the charges.
However, it's not just Mr. Pan on trial. Jenny Hou, Mr. Liu's former campaign treasurer, is also accused with setting up phony straw donors to benefit Mr. Liu's still-undeclared mayoral campaign. Should Mr. Pan be found unfit to stand trial, it's possible her case would be severed and moved forward on its own. Ms. Hou's attorneys had unsuccessfully asked for their cases to be separated back in November, but federal prosecutors are pushing for the joint trial to continue.
Mr. Sullivan described April 15th as a "firm" date and estimated the trial will last two weeks. Ms. Hou's lawyer, Gerald Lefcourt, estimated two to three weeks.
The ruling is a mixed electoral blessing for Mr. Liu. If Mr. Pan is found to have serious mental issues, the public may not judge Mr. Liu as harshly. On the other hand, with a September primary likely, Mr. Liu undoubtedly would like the case to be over and done with as soon as possible.