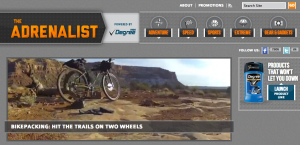 Until December, Melissa Lafsky Wall was the editor of Newsweek's iPad edition, a job she landed on the strength of bylines in The New York Times, Salon, Wired and The Christian Science Monitor, as well as editing stints at the Huffington Post and the Freakonomics blog.
But as Newsweek was laying off staffers leading up to the death of its print edition, Ms. Lafsky Wall decided to go in an altogether new direction: since January, she has been the director of content at HowAboutWe, a startup dating site with a blog about courting, relationships and romance. 
The articles Ms. Lafsky Wall produces are indistinguishable from those on brainier women's blogs. Recent titles include "Millennial Women Rejoice: It's Our Hookup Culture, Too," "The Adventures of Dating in Davos" and "Beware the Rom Com Curse, Says Science." They're well-reported and well-written, helped by the fact that HowAboutWe pays at the high end of web writing rates.
"Working in a place that's growing is amazing. Growth and progress … it's like, thank God!" Ms. Lafsky Wall said. "And having a budget to pay writers is amazing."
Ms. Lafsky Wall is one of many journalists departing the desert of traditional media for the greener—but also grayer—pastures of branded content. A bad year for journalism, owing to layoffs at Condé Nast, Martha Stewart Living, Reuters and Hearst, and buyouts at The New York Times and Time Inc., has been a boon to this emerging field. While writing gigs at magazines and newspapers continue to dry up, there are abundant opportunities to write or consult for blogs owned directly by brands.
"We have editorial meetings every day; I run it just like a newsroom," said Michelle Kessler, a former tech writer and editor at USA Today turned director of content for Qualcomm's Spark blog. "I edit stories for Spark the same way I did at USA Today."
The new content model represents a shift in the way publishing has usually worked. Rather than pay a media middleman for eyeballs, brands including Tory Burch, Coca-Cola and Gilt Groupe are learning to attract them all on their own. "Instead of paying money to rent an audience, they can own their own audience," said John Hazard, director of community for Contently, a company closely tethered to the branded content explosion.
When the startup launched in 2010, its founders envisioned a site where freelance writers could be connected with traditional outlets—a sort of LinkedIn just for journalists. But, as it turned out, The New York Times and The Wall Street Journal don't have a problem getting freelancers to pitch ideas. Brands, on the other hand, were deploying blogs as a cost-effective way to create buzz and needed creators who could lend those endeavors a note of authenticity, rather than simply churning out canned advertorial copy. Contently became a matchmaking vehicle for brands and writers—an unlikely marriage until recently.
"Thirteen years ago, I was very religious about journalism. Even five years ago, I wouldn't have done it," said Mr. Hazard, explaining that there is still a stigma against selling out, although it is starting to fade. "But once people realize it's still journalism, they become more okay with it." Contently's overflowing writer roster bears this out; the company now has more than 10,000 journalists in its network. Last June, there were 2,000 names on the list.