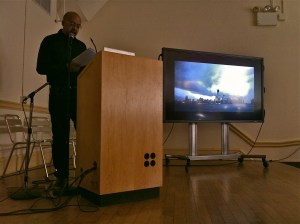 "Surreal" is a slippery word. No longer used to refer exclusively to the art movement that began in the 1920s, the term is tossed around as a synonym for "dreamlike" or "bizarre." It has been so stripped of its subversive content that reality television has even co-opted it (see The Surreal Life, which documented a bunch of has-been celebrities living together—there were meltdowns, but they were nothing like Dalí's clocks).
Nonetheless, a renewed interest in Surrealist artists—especially non-Europeans—is on the rise. The current "Drawing Surrealism" exhibition at the Morgan Library & Museum includes work from South America and Japan. Africa, however, is absent, and that's where Performa comes in. The biennial performance art festival has chosen Surrealism as the "historical anchor" of its upcoming edition, Performa 13, and kicked off programming last weekend with a two-day conference at New York University titled "Get Ready for the Marvelous: Black Surrealism in Dakar, Fort-de-France, Havana, Johannesburg, New York City, Paris, Port-Au-Prince 1932–2013."
The breadth of the term "surreal" was evident at the conference. Wangechi Mutu's collages were called surreal; so was post-apartheid South Africa. Does this proliferation of meanings render the word meaningless? Somehow, the term regained some of its revolutionary bite over the course of the conference. Gallerist caught the second day, when speakers ranging from academics to artists tackled contemporary Surrealist practices with formal lectures, spoken-word performances and candid conversations.
Tavia Nyong'o, an associate professor of performance studies at NYU, spoke first, discussing Surrealism's anti-establishment streak and its supporters' opposition to colonialism, among other forms of control. He made reference to George Jackson's prison letters, citing a line often quoted by Gilles Deleuze: "I may run, but all the while that I am, I'll be looking for a stick." Mr. Nyong'o added, "Surrealism is not just the flight, it is also the looking—and it might also be the stick."
In 1924, in his "First Surrealist Manifesto," the movement's ringleader André Breton defined it as a masculine noun meaning "Pure psychic automatism by which it is intended to express, either verbally or in writing, the true function of thought. Thought dictated in the absence of all control exerted by reason, and outside all aesthetic or moral preoccupations."
Many of the works discussed at Performa were not created automatically (i.e., by supposedly channeling the unconscious)—from the highly intentional installations of Dineo Bopape to those of Simone Leigh, who spoke at the conference. But if these pieces were created consciously, are they still surreal?
"I don't think automatism is by any means no longer a part of the Surrealist inheritance, but I also don't think it's the sole Surrealist gesture either," Mr. Nyong'o told Gallerist after the talk. "The idea of automatism or the unconscious as intrinsically revolutionary—subversive—is problematic, because the contents of the unconscious are often quite predictable. It's just like, is it a source of revolutionary imagination, or is it a junkyard?" (Sigmund Freud also found automatism problematic, and he spent a good deal of time trying to tell the Surrealists—his adoring fans—that they clearly didn't get his work at all if they thought they could access the unconscious through their games and exercises.)
Mr. Nyong'o said that while some people want to reclaim the word "Surrealism," the term itself is not particularly important to him. "I don't have an investment in that so much as trying to understand these sheets of the revolutionary past and trying to bring an analysis of contemporary artists into conversation with that past," he said.
If Mr. Nyong'o is not particularly invested in the term, then filmmaker Melvin Van Peebles definitely doesn't give a damn about it. When he took the stage to answer questions from musician and current Metropolitan Museum of Art artist-in-residence Paul D. Miller, a k a DJ Spooky, the audience gave him a thunderous standing ovation. Mr. Van Peebles said that while he felt honored to be considered a Surrealist and included in the conference, he doesn't put much stock in such designations. "I figured I wouldn't lie to you all: I don't know nothing about this shit," he said. "When I hear these terms used, it's humorous. I mean, I always thought like that. That's a whole viewpoint that they slapped a title on. It wasn't Surrealism to me. It ain't Surrealism, it's just fucking courage."
Spooky conducted part of the interview in French, which was fitting, since Mr. Van Peebles got his start in Paris. Mr. Van Peebles recalled that he was begging in the streets when a newspaper editor short on staff during the August holidays hired him on a whim to go report on a murder. "Talk about Surrealism," he said.
The conference culminated in a panel featuring several of the day's speakers as well as RoseLee Goldberg, the founder of Performa, and artist Adam Pendleton, the author of the Black Dada Manifesto, who had performed the day before.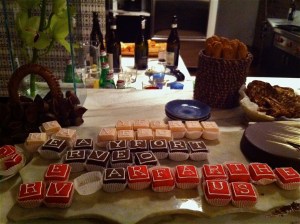 Afterward, in a loft on Duane Street, guests sipped sparkling red wine out of Moroccan tea glasses and picked at prosciutto and strawberries before settling on a large leather sofa. Cookies, each decorated with a letter, spelled out "Get Ready for the Marvelous." Spooky, who lives across the street, told the hostess about their neighbors. If she ever sees a serious-looking man sitting on a nearby iron stoop, that's Richard Serra, he said. The day's discussion of the African diaspora rendered the zebra skins splayed out on the floor a little surreal, or maybe just unsettling. A white peacock watched the party from a corner of the room.