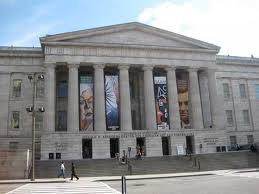 The National Portrait Gallery in Washington, D.C., has named Kim Sajet its new director. Ms. Sajet is currently the president and chief executive of the Historical Society of Pennsylvania in Phildelphia.
Here are some more details from The Times' ArtsBeat blog:
"Ms. Sajet, who was born in Nigeria, raised in Australia, and is a citizen of the Netherlands, will be responsible for a staff of 65, an annual budget of about $9 million, and 21,000 objects that include Gilbert Stuart's famous unfinished portrait of George Washington, photographs of Abraham Lincoln before his assassination and videos of more recent presidents."
Ms. Sajet will start April 1, and that's no joke. Mazel!