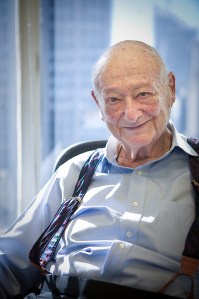 Andrew Cuomo is among the mourners attending Ed Koch's funeral today in Manhattan, but the governor and his family didn't always enjoy the best relationship with the former mayor.
Koch ran against Governor Cuomo's father, Mario, twice. They first faced off when Koch made it to City Hall in the 1977 mayoral election. In 1982, Koch ran for governor and was defeated by the elder Mr. Cuomo. The 1977 campaign included an incident where posters alluding to the widespread rumors about Mr. Koch's sexuality by proclaiming "Vote For Cuomo, Not The Homo" were placed all along Queens Boulevard.
This situation evidently caused a lasting rift between Koch and the Cuomos. However in one of his final interviews with Politicker, Koch explained the signs weren't among the reasons he initially had issues with Cuomo the younger. 
There have long been rumors that Andrew Cuomo was responsible for the inflammatory posters. In a 2007 interview taped with the New York Times with the understanding it was to be aired only after his death, Koch said Mario Cuomo promised to "do something" about the signs. Koch admitted he didn't think Mario actually attempted to stop and the posters  situation caused him to have animosity towards both members of the Cuomo clan.
"I don't think he did anything. That matter has affected our relationship from '77 through this year," said Koch. "We get along and we got along as mayor and governor, but I always held it against him. I also held it against his son, Andy Cuomo. Even though social relationships when we meet in public are good, underneath, he knows I know what I'm really thinking: 'You prick!'"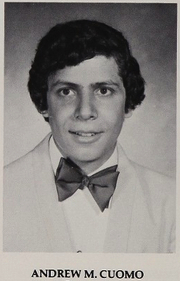 Koch told us he believed Andrew Cuomo's denials of having ever been involved in the poster flap. In spite of this, Koch admitted there were things he held against the younger Mr. Cuomo. Specifically, Koch was upset with Mr. Cuomo  for criticism of the governor's ex-wife, Kerry Kennedy Cuomo, that appeared in the press attributed to sources close to Mr. Cuomo during their contentious divorce. He also blamed Mr. Cuomo, who dropped out of the 2002 governor's race when he was running on the Liberal Party line and prosecuted the party's former boss Ray Harding in a pay-for-play scandal, for destroying the party.
"He appeared before a gay group looking for their support, I think it was when he was attorney general, and he said, 'I had nothing to do with it,'" Koch said of Mr. Cuomo and the poster incident. "And he came up to see me and he said, I'd like your support.' And I said, Andrew, I could never support you. I'm not talking about 'Vote For Cuomo, Not the Homo,' because you said you didn't do it. … I don't know who did it, but somebody did it. I'm willing to accept that. I'm not desirous of holding grudges anymore.' That's what I said to him, 'It takes too much energy. But I can't vote for you because of what you did in attacking your wife and also you destroyed the Liberal Party.'"
Mr. Cuomo addressed these accusations and was able to earn Koch's support.
"He said, 'I didn't attack my wife, my friends did, and I told them not to do it and I'm sorry they did it. And I did injure the Liberal Party, but they have forgiven me. Ray Harding has forgiven me,'" Koch said Mr. Cuomo told him. "So, I said, 'Look, if he's forgiven you, then I don't have to hold it against you, I'll endorse you.' And I endorsed him."
Though Koch endorsed Mr. Cuomo when he ran for attorney general and for governor, his loyalties seem to lie elsewhere in terms of the national stage. Both Mr. Cuomo and Hillary Clinton are rumored to be considering presidential bids in 2016. In his final days, Koch was clear he supported Ms. Clinton over any other potential opponents. However, Koch said he would eagerly back Mr. Cuomo for another term in Albany.
"I think he's fulfilled the goals that I hoped he would achieve," said Koch of Mr. Cuomo. "I think he's done a marvelous job."
Koch, who is well-known for constantly courting press and held multiple daily briefings, said he was particularly impressed with the way Mr. Cuomo, who has had a more distant relationship with the press, handles the media.
"What he did that surprised me, he avoided the press," Koch told us. "I said to him at a dinner once … he came over to say hello and I said, 'Your'e doing a terrific job and you're obviously listening to your dad and not running after the press and looking for interviews. It's marvelous.' And he said, 'It's not my dad, it's my mom. My mom gave me the advice.'"
Additional reporting by Colin Campbell.
(Updated to note Mr. Cuomo's withdrawal from the 2002 gubernatorial election.)