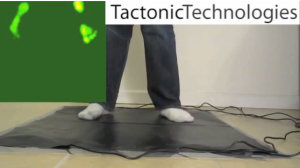 The robot couldn't get a permission slip to attend last night's New York Tech Meetup, but the audience was still treated to some wow-factor technology.
The robotics demo, billed as "Talos: Personal Robot" was a late cancellation after Columbia University's Jason Ravel was denied the go-ahead to take his technology off campus. Meetup sponsor MLB Advanced Media helped fill the gap, giving meeting-goers a virtual tour of the control room and data centers that let the company stream 1.5 petabytes of digital content every baseball season. That is … a lot, and a worthy point of pride that the bulk of that content is being stored and served from MLBAM's Chelsea facilities.
As for the future identity of the company, which started out as the live-streaming arm of Major League Baseball, but now functions as a technology firm serving video content for dozens of providers, a shift may eventually be in the offing. "We're now starting to pick up momentum in getting to other businesses," senior vice president Joe Inzerillo said. "At some point in time, we'll have to deal with the branding issue, but at this point it hasn't prevented us from growing."
Also very cool: Tactonic founder Gerry Seidman showed off his company's next-gen pressure-sensing tech, a sensor-and-software package that can turn any surface into a keyboard or joystick. Other potential applications: dashboard control for the 21st-century automobile (the intelligence of the sensors might mean a cruise control button that follows you left thumb, wherever your hand rests on the wheel) and floor tiles potentially capable of everything from medical diagnostics to helping retailers determine which shoppers are demonstrating the body-language of a person ready to buy.
Meanwhile, a team from Citia, a company dedicated to "reinventing the media experience," showed off a neat trick with a Leap Motion controller, using hand gestures to page through content. Next up for the company: getting a collaboration with Leap Motion and Snoop Dogg ready in time for SXSW.
If there was any complaint about the presentations, it's that they focused on the products' respective reaches, rather than the underlying tech: more than one meeting-goer told us they wanted a deeper dive into MLBAM's and Tactonic's engineering. Then again, the feeling probably wasn't universal. NYTM executive director Nate Westheimer seemed to spend the evening prodding someone, anyone in the audience to go ahead and ask demoers some technical questions.
It wasn't all flashy hardware. Just in time for Valentine's Day, How About We unveiled its new website, which adds a new membership service for couples to the site's first-date model. Now on offer: curated experiences such as discounted movie tickets, dessert tastings and catered dinners at home. Still to come? Targeted recommendations based on criteria such as the night of the week and past preferences. "Because," as co-CEO Brian Schechter told the meetup, "there's falling love, and there's also being in love." Awwww.
When Shelby.tv presented at New York Tech Meetup in May 2011, CTO Dan Spinosa showed meeting-goers a photo of cofounder Reece Pacheco's bikini-clad sister. This time, the company demoed a product that let's users program their own channel of video: As  proof of concept, Mr. Pacheco showed off fredwilson.tv, which compiles all the video that the Union Square Ventures investor has shared on a single platform. Which might be another Valentine's Day idea, if you and your special someone consider peering into the mind of your favorite venture capitalist a cultural experience.
Lastly, we wouldn't miss a chance to note that NYTM managing director Jessica Lawrence reminded meetup community members to provide input on the meetup's recently released slate of proposals for New York's political hopefuls.
"As Mayor Bloomberg is stepping away from his post," she said, "he's done so much to help us become a city that's really know for technology innovation, and we really want to keep that going."