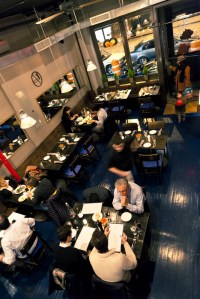 It will soon be Valentine's Day and, while I deny bitterness her dram and cynicism her laurels, I dread it. What is the holiday but a high striker in a cheap carnival of sentiment? No matter how bearded the artisanal chocolatier, what is he to Cupid or Cupid to him? Diamonds, teddy bears and roses are not tokens of affection but of carbon, polyester and cold Latinos standing in front of delis. There is, however, at least one way to celebrate Valentine's Day of which I heartily approve. That's eating at Le Philosophe, a new bistro on Bond Street.
There are many romantic places at which to dine on Valentine's Day. Like bad Jews on Yom Kippur, every restaurant, from the white-tableclothed to the greasy spoon, is duty-bound to dress up once a year. The tropes of romance are dusted off and trotted out. There are enough hearts in New York this week to make Milton Glaser moan, enough candles for a mass exorcism and enough prix fixe to outrage the Sherman Act.  
Le Philosophe, which opened in November, is romantic. It's romantic from without: its light spills onto Bond Street's cobblestones and, seen from the frigid sidewalk, the plats du jour, written neatly in chalk on the wall—coq au vin, tete de veau, cassoulet—promise warmth and satisfaction. And it's romantic from within: candlelight, high ceilings and the flush of a preprandial bottle of Sancerre rosé from the Cote de Reigny Sauterau ($37) renders every woman a Rosetti and every man a Romeo. As a concession to the name—the bistro is modeled after Café Les Philosophes in Paris's Fourth Arrondissement—a grid of French philosophers stares at diners from along one wall. They gaze out in various stages of cogitation, contempt or, more likely, envy.
The plates that parade before their eyes are, nominally, the bistro cuisine with which even René Descartes would be familiar. But you won't find anything as refined at, say, Les Deux Magots. The chef at Le Philosophe, Matthew Aita, learned his craft both in the carnivorous kitchen of Daniel Boulud's DBGB, where it seems even the iced tea comes with charcuterie, and the more raffinée Eastern-tinged kitchen of Jean-Georges Vongerichten.
Some of Mr. Aita's craft is in selection and presentation, which is to say in restraint: plump oysters—Sandy Bay from the West; Montauk Grill from the East—come in Le Creuset gratin dishes and look at home surrounded by seaweed from Maine, accompanied with only a classic mignonette. Radishes arrive simply quartered, with a smear of mustardy butter and sea salt.
Some of Mr. Aita's craft is in embellishment: salmon is veiled in bacon; frog legs come in a jumble of watercress purée, croutons, red cress and hen of the woods mushrooms. A daily paté ingeniously eats up scraps and usually includes pig trotters, foie gras, duck leg, bacon and (not or) chicken liver. The Tournedos Rossini, a sort of old fashioned Veblenian hamburger made of butter-soaked bread, medallions of seared tenderloin, a lobe of foie gras and a black truffle bordelaise, somehow tastes less decadent than it is. That's a good thing.
But the lion's share of Mr. Aita's appeal comes from balance. The bar steak, a flat-iron, arrives cut and fanned like a winning hand of gin rummy, with both a sauce bordelaise and a sauce choron, as well as a mound of salty crisp fries. It is crosshaired between chewy and melty, crusty and soft, le cru et le cuit.
The duck a l'orange, another dish that, like an old relative, has been shunted into obscurity not through any fault of its own but simply because it is superannuated, is brought back to life with crisp flavors, laced with subtle spices like fennel, coriander, Thai chili and, of course, the orange gastrique.
So the food is good, the light is low, and that's romantic. But that's not exactly the type of romance that I have in mind. The best seat in the house, for my purposes, might also be the worst. It's at the bar, tucked uncomfortably close to the expediting station, at the threshold of the open kitchen. Follow the gaze of Albert Camus, the handsome brooder sandwiched between Emmanuel Levinas and Auguste Escoffier, and you'll see it. At this seat, you'll be jostled and jangled and elbowed aside with barely concealed annoyance by otherwise pleasant servers.
But this perch also affords a spectacular view into the kitchen, a crucible of stainless steel, nerves and julienned carrots. Were you made of sterner stuff than I, you might be able to reach out to tap Chef Aita. Or you might attempt to engage the glowering garde manger, who between shucking oysters and filling profiteroles with caramel ice cream ($8) has only time to grunt and gnash his teeth. The rest of the brigade—the cuisinier in charge of poultry and fish, licked by the flames of the range, and the cuisinier at the hot-apps station, face toasted by the oven—is beyond reach and blurred by movement.
Four men in a small space, bent on production, in a fog of delirious effort and constant motion. Cataracts of salt poured on fries. Sudden flashes of flames jumping from the burners. The frantic extrusion of fresh pasta dough for the garganelli. Gazing at these men from the other side of the bar is like watching a train thunder by, just inches from one's nose.
And this is just that train as it passes for an instant on a long-haul journey. Mr. Aita, who lives in Astoria with his wife and two kids, arrives at the restaurant at 10 a.m. and rarely leaves before 3 the following morning. At daybreak, he is greeted by raw material. A box of frog's legs that look, according to him, "like the bottom half of leprechauns." A brace of duck carcasses that need to be broken down, their bones reserved for jus. Chanterelles and hens of the woods to be cleaned. Those legs must be de-femured, the meat rolled in barley and wheat flour and fricasseed, the bones made into a fumet. Seventeen hours later, he'll leave, and he'll leave nothing of this behind.
Perhaps it was because Camus was burning a hole in the back of my head for the entire meal, but I felt as if Le Philosophe was filled with a hundred Sisyphuses. In the kitchen, Mr. Aita was burning through himself, ending each day just a day older. And we diners, seeking to immortalize our romance, baptize it in candlelight, bathe it in bordelaise—we too were burning through ourselves with hours even more unforgiving than the chef's and a burden far heavier.
For on Valentine's Day, we're faced with what Love should be, and it is so far from our felt reality of it that we become conscious of the absurdity. Love is not lit by candles, but by computer screens. It's not "Let me count the ways …" but "How many times do I have to tell you …" Being in love isn't holding hands; it's holding back, cleaning up and steering clear. Love, like freedom, is an endless meeting.
At Le Philosophe, where we are faced with the delta between the grind of the kitchen and the calm sanctity of the plate, and on Valentine's Day, when we can't help but notice the divergence between the difficulty of what relationships are and the sepia of what Romance is, we are at our apex, just as Sisyphus was, watching his boulder roll down the slope again. At that moment, Camus says, Sisyphus realized his own absurdity. And at that moment, Camus writes, "He is superior to his fate."
Finishing off the tarte tatin ($9), its apple cider glaze swirls with buttermilk ice cream and the last crumbs quickly disappear. Draining the last sips of a Pommard 1er Cru Jean-Claude Boisset ($82), a ruby red pinot noir grown mid-slope in Bourgogne, one is both conscious of the absurd and satiated at the same time. And, as Camus wrote, one must imagine Sisyphus happy.
editorial@observer.com