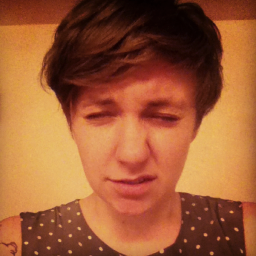 Lena Dunham, the star and creator of HBO's zeitgeisty comedy Girls, took to Twitter this afternoon to fight back against reports she did not vote in the presidential election last year despite filming a controversial ad urging others to cast a ballot for President Barack Obama. According to officials at the Board of Elections in Brooklyn, Ms. Dunham's claim she voted by affidavit ballot may have merit.
Last night, the Room Eight blog reported "a Lena Dunham … registered in Brooklyn did not vote in the 2012 general election or in any local elections since she moved from her prior address in Tribeca." Gawker also noted it seemed like Ms. Dunham may have been on vacation in India during the election. In a series of tweets this afternoon, Ms. Dunham shot down the reports and said she flew back to New York to vote and submitted an affidavit ballot at her old polling place in Manhattan.
"Hey kids, some people on the internet are saying I didn't vote. Some of them are still mad I used a sexy metaphor re: voting. Read on: I did vote. I tried to get an absentee ballot but, because our nation's voting system is a steampunk cornmaze, it didn't arrive," Ms. Dunham wrote. "So not to be a martyr about it but I flew to New York to vote. I wasn't sure if my change of address had officially been registered so… …I went to my old polling place with my dad, where they let me vote by affidavit (what was totally allowed.)"
Two Board of Elections officials told Politicker that, because of the executive order issued by Governor Andrew Cuomo in the wake of Hurricane Sandy, New York City voters were permitted to use affidavit ballots at any location in the state. Though Ms. Dunham's voter history file does not show her as having participated in the election, the BOE said they are "still working on the voter history for last year's elections" and do not have complete information for everyone who submitted affidavit ballots in the presidential election. Records show Ms. Dunham, an unaffiliated voter, cast a ballot in the 2008 presidential election and successfully changed her registration's address to Brooklyn at a later date.
For her part, Ms. Dunham finished her attempt to shoot down the reports about her vote with a characteristically sarcastic reference to her public support of President Obama.
"Obviously I voted for Romney. I hope everyone has a nice day," she wrote.